Language Centre facilities transformed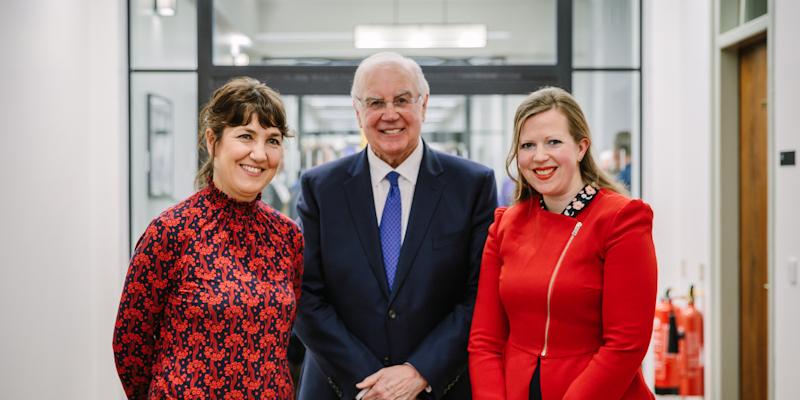 On 22 January, the Language Centre celebrated the opening of new facilities with tours, workshops and an evening reception with the Vice Chancellor.
Language Centre staff and students have now returned to Grade II listed Parkinson Building after a 15-month construction project to transform facilities in the iconic building.
Students will benefit from a high quality environment for learning and teaching, including technology enhanced classrooms, new 'breakout' areas, and the Language Zone for independent language learning.
Staff from across the University and those involved in the construction project celebrated the successful completion of the project at an open day and evening reception.
At the open day, the Centre opened its doors to colleagues who were invited to take a tour of the building and learn more about the work of the Language Centre. The event included a display of archive material about the Language Centre's 55-year history, as well as examples of recent publications and scholarship projects undertaken by current members of staff.
Yolanda Cerdá, Language Centre Executive Director opened the evening reception, thanking the teams who had participated in the project. The University's Vice-Chancellor, Sir Alan Langlands, gave his thanks to everyone who had been involved in the refurbishment and noted the importance of these facilities to the University.
Rupert Herington, Deputy Director of the Language Centre said:
We are very pleased to be back in the Parkinson building and very happy with how the two floors have been transformed.
The third floor comprises office and meeting space, while the second floor is student facing, including:
a new Language Centre reception and Student Support Office
a reconfigured Language Zone entrance
five rooms for small group teaching, complete with lecture capture facilities; and
three technology enhanced rooms for innovation in language teaching.
Other features of the development include:
refurbished common and pastoral areas
improved signage throughout the Centre
new 'breakout' areas and private seating booths for group or individual study
additional meeting and consultation rooms
new staff facilities, including kitchen areas and 'breakout' space; and
improved lighting and ventilation to provide a more comfortable and energy-efficient environment.
Find out more about the Language Centre's teaching and facilities.
Image (L-R): Language Centre Executive Director Yolanda Cerdá, the University's Vice-Chancellor Sir Alan Langlands and Head of the School of Languages, Cultures and Societies, Professor Emma Cayley.