Dr Kimberly Campanello receives prestigious award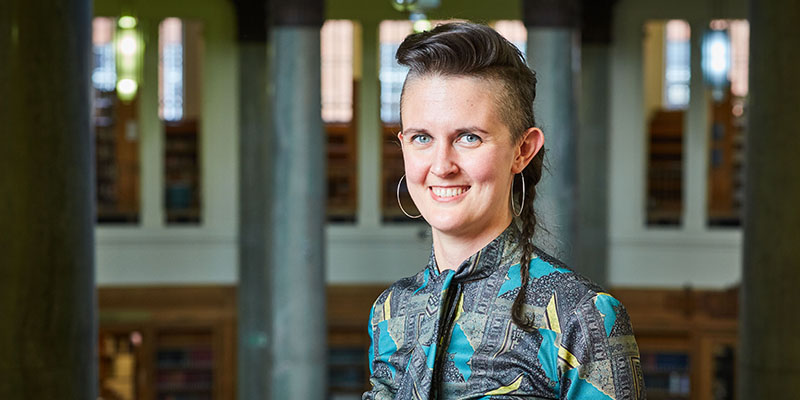 Poet, Lecturer in Creative Writing and Poetry Centre member wins Markievicz Award for <i>(S)worn State(S)</i> project.
A bursary of €20,000 has been presented to Dr Kimberly Campanello by Minister for Culture Josepha Madigan, on behalf of Ireland's Arts Council and Department of Culture, Heritage and the Gaeltacht.
The Markievicz Awards honour Countess Constance de Markievicz, the first woman to be elected to Westminster parliament. The funding intends to improve the representation over time of the roles, experiences and ambition of women through original work across a wide variety of art forms.
(S)worn State(S) - Poems after Countess Constance Markievicz is a collaborative project by three of Ireland's most exciting literary voices: Kimberly Campanello, Annemarie Ní Churreáin, and Dimitra Xidous.
The award allows the three of us to come together to write new poems that consider the role of women in Ireland in the decade of the centenaries and beyond.
Taking the theme of 'witness' in the context of women's lives and the Irish State 2012-23 and beyond, the project will result in a suite of new poems and will be produced in a special letter-press publication by The Salvage Press.
"(S)worn State(s) will evoke a wide range of 'states' of female embodiment and thought, including pleasure, joy, and experiences of intellectual interrogation," explains Kimberly.
"It will challenge 'worn' narratives of perpetual female suffering and self-alienation and remind readers that bodies think, that women move and think, in bodies."