Professor Simon Armitage appointed as Poet Laureate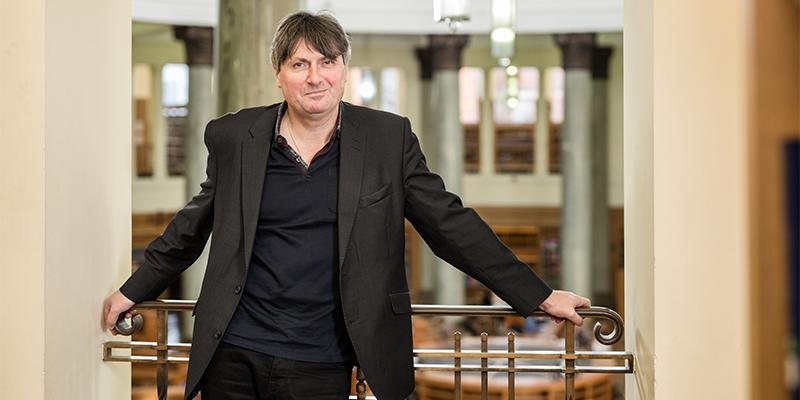 Professor of Poetry in the School of English, Simon Armitage has been appointed to the highly prestigious role of Poet Laureate.
Professor Armitage succeeds Dame Carol Ann Duffy and becomes the 21st Poet Laureate in the UK, appointed by the government and approved by the Queen.
Professor Armitage said: "It's a huge honour to be appointed Poet Laureate, one of the great high offices of literature. Over the past two decades, the laureateship has become a working role, with previous laureates actively involved in the promotion of poetry and in numerous initiatives to identify and encourage talent, especially within education and among younger writers; I hope to build on the work of my predecessors with energy and enthusiasm."
It's a huge honour to be appointed Poet Laureate, one of the great high offices of literature
Dr Fiona Becket, Head of School said: "At a time when poetry is everywhere and is engaging wide and diverse audiences, Simon's voice is central. He has long been an enduring and powerful presence, and a shaper of contemporary poetry in so many ways – from encouraging writers at the start of their careers, being supportive of activity which raises the profile of poetry and, in his work, exploring multiple environments for new writing."
Professor Armitage joined the School of English in 2017 and has since been involved teaching at both undergraduate and postgraduate level, as well as being actively involved in the University of Leeds Poetry Centre, through which he convenes a fortnightly reading group the School of Night.
We're absolutely delighted at the news and Professor Armitage is looking forward to combining his poet laureate duties with his activities at Leeds, which have ranged from enthusing prospective students at University open days to teaching, lecturing and outreach work in the city and beyond.