Careers and employability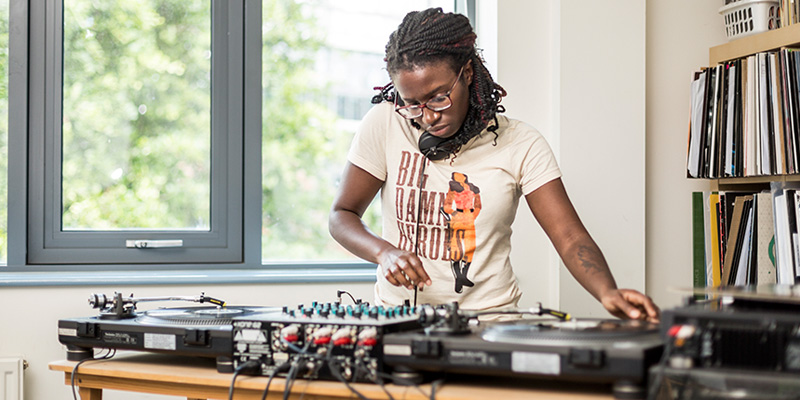 Our music postgraduates go on to a range of different careers and we are proud to offer support and guidance to help you progress into your chosen career path.
Studying music at postgraduate level increases considerably the chances to secure a position in the music industry or advance a career in music performance, and given the interdisciplinary character of most of our masters programmes, it offers an extra set of skills that will be highly-beneficial for other sectors such as business and management, intellectual property law, fundraising, creative industries, tourism and events, higher education and research.
How do we support you?
You'll have access to a wide range of support and guidance during your Masters to help you shape your career and fulfil your aspirations.
Your personal tutor, who will be a member of staff from the School of Music, will be a key contact for you. As well as supporting you with your academic studies, they can provide career guidance.
Involvement in School events such as concert performances, the annual postgraduate open day and regular employability events will provide you with opportunities to network, build leadership skills, become an ambassador for the School and gain experience across numerous situations. There may also be opportunities for you to teach on our undergraduate courses.
The School of Music routinely organises industry panel events, and also routinely invites a range of guest speakers from the music industry. Last year for example, the range of guest speakers included managers from major record labels, international music publishing companies, podcasting platforms and streaming services.
University support
The Library offers an extensive programme of support to develop your academic skills. You'll be able to sharpen your skills in a range of areas from academic reading and writing to referencing, using specialist software, time management and presentation skills.
Specialists in the University's award-winning Careers Centre offer one-to-one guidance sessions to support you to make informed decisions about your career path, understand the wide range of opportunities available and the steps you need to take to pursue your choices.
You'll also be encouraged to attend on-campus events such as graduate recruitment fairs, employer networking and information sessions, and meetings with our alumni.
If you decide to carry on studying after your Masters degree we offer postgraduate research degrees.
Leeds University Union provides career-related support through the part-time job hub, student societies and other activities throughout the year.
Enterprise
You can access support to help you start your own business. Whether you want to learn about enterprise or become an entrepreneur, we can help you tailor your experience.
Clubs and societies
Leeds University Union has over 300 clubs and societies, providing opportunities for you to get involved in lots of great activities and explore your interests. The Union is also home to School Reps who are appointed by students to represent the views and be the voice of students in your School.
Our graduates
Our graduates take a number of different careers paths, from working in the music industry to becoming professional musicians. Former students have gone on to work in organisations including:
Warner Music
Polydor
Opera North
The Hallé Orchestra
3x Grammy Award® winners Snarky Puppy
Manchester United Football Club
Universal Music
Sony Music
The BBC
Live Nation
TikTok
Bilibili
Huawei
Amazon
Apple
Leeds Conservatoire