LUU Medieval Society 2018-19: a year in review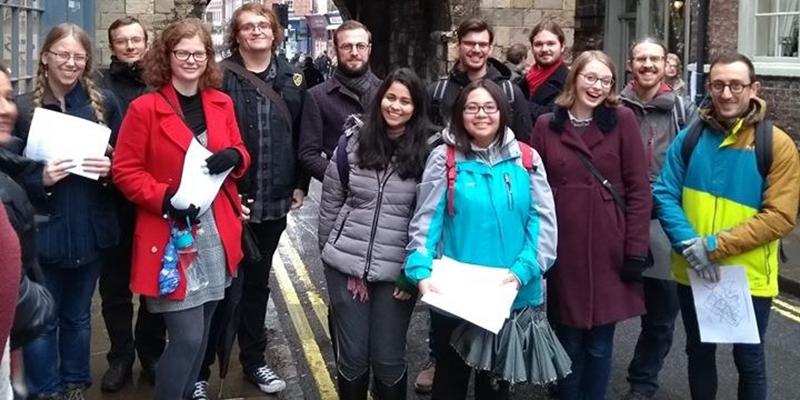 The LUU Medieval Society hosted diverse and exciting events in 2018-19, including multiple day trips, film screenings, a game night, and a guest lecture.
Leeds University Union (LUU) Medieval Society promotes a thriving community of medievalists in the University and the city of Leeds, and anyone with an interest in the Middle Ages is encouraged to join. The University of Leeds, the city of Leeds, and indeed the whole of Yorkshire is a rich area for the study of the Middle Ages, and LUU Medieval Society events seek to explore this heritage through trips, workshops, and other events such as medieval-themed movie or game nights.
This year's organising committee includes:
Samuel Bradley (IMS PGR Researcher, PhD), President.
Lisa Trischler (IMS PGR Researcher, PhD), Treasurer.
Victoria Yuskaitis (IMS PGR Researcher, PhD), Secretary.
Madeline Hernstrom-Hill (IMS PGR Researcher, MA), Social Media Coordinator.
The final LUU Medieval Society event of the 2018-19 academic year is the annual IMC pub quiz - for more information, see 'Upcoming Event'.
Events 2018-19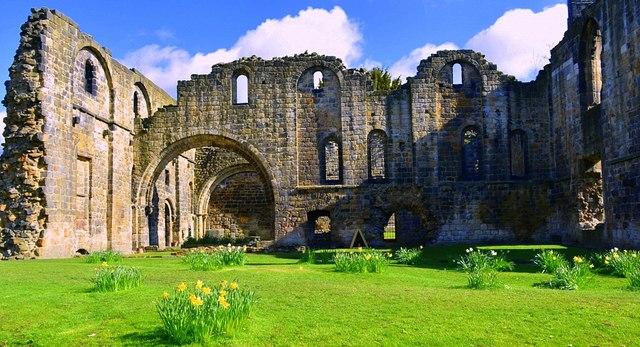 The Society visited Kirkstall Abbey, one of the best preserved Cistercian monasteries in the country, with ruins dating to the 12th century. The Kirkstall Abbey Market was also running during the trip; afterwards, participants were invited for refreshments at the Kirkstall Bridge Inn.
The Society screened two films with medieval themes: 'A Knight's Tale' and 'Outlaw King'.
The trip included a member's lunch, a tour of York given by Alaric Hall, an opportunity to listen to Evensong at York Cathedral, and time to explore the York Christmas Market. The tour included admission to Barley Hall.
The Society screened the iconic film 'Monty Python and the Holy Grail' as part of the Give it a Go (GIAG) event, which encouraged students to try something new.
The Society hosted a night of medieval-themed games, such as Mystery of the Abbey, Shadows over Camelot, Settlers of Catan, Once Upon A Time, and more.
The talk focused on Johnson's recent research about Henry VI, and was followed by a Q&A and book signing. The discussion ranged from Johnson's research, to questions about how to write popular histories or historically-based novels.
The Society concluded a year of events by visiting Monk Bretton Priory in nearby Barnsley, followed by a pub lunch.
Upcoming Event
The final LUU Medieval Society event of the year will be an annual Pub Quiz during the International Medieval Congress (IMC). The pub quiz will be held on Monday 1 June in Old Bar, in the Leeds University Union (LUU) from 19:15-20:30. All registered participants at the IMC are welcome - feel free to organise a team and join us!
If you are interested in joining the organising committee for 2019-20, or have any queries, please contact the LUU Medieval Society via email (luumedievalsociety@gmail.com).
Responses
Students responded positively to this year's events. Florence Scott (IMS PGR Researcher, PhD) stated that 'the Kirkstall and York trips were both really enjoyable. It's great to have social events at the beginning of the year - they serve as ice-breakers and help to build a stronger community within the department'. In particular, Scott enjoyed 'visiting York Barley Hall, which I'd never been to before. It's so great to be able to get a sense of how a real medieval building would have looked and functioned'.
In addition to the content of the trips, Scott praised how the organisers 'also made sure the York trip was accessible to all students, which promotes an atmosphere of inclusivity'.
Trischler (Treasurer) stated that the trips and events 'have been a great opportunity to explore medieval sites around Leeds in a friendly environment. The ability to choose which sites we visit and guide the itineraries has been fantastic.'
Agreeing with Scott, Trischler stated that 'it has also been a great way to make friends and feel as though I am contributing to the student life of my peers'.
Yuskaitis (Secretary) stated that it was 'especially exciting to see so many medievalists from all areas of the university - from undergraduates, to MAs, to PhDs, and even alumni - participating in events'.
Hernstrom-Hill (Social Media Coordinator) called the day trips and Lauren Johnson talk 'definite highlights' of the year. Hernstrom-Hill, an American, also explained that 'as an international student whose home country is completely lacking in castles and monastic ruins, it's absolutely exhilarating to see them in person, especially with a group of friends and an excellent guide'.
Bradley (President) is already looking to the future: 'We look forward to continuing this momentum in the next academic year - we have already started planning!' Bradley clarified that 'we could not have had the success and fun over the past year without our members...or the Committee. Have a great summer, Medievalists, and see you in September!'