Leeds Centre for Translation Studies Presents at UN Geneva InnoVent Conference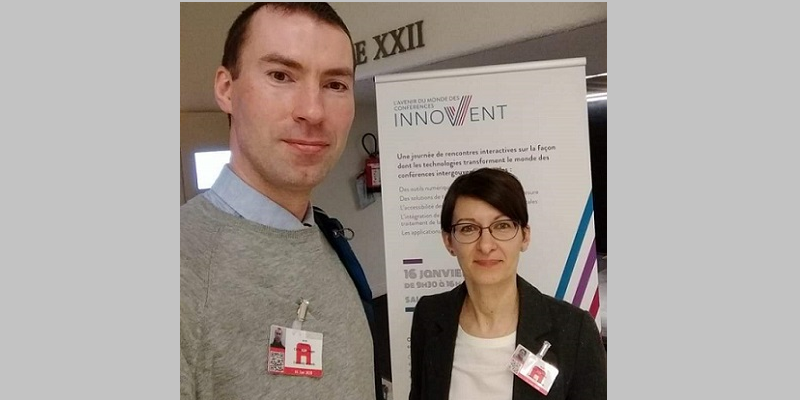 Dr Alina Secară and Dr Dragoș Ciobanu were invited to present their latest research at the event.
In January 2020, Dr Alina Secară and Dr Dragoș Ciobanu were invited to present their latest research on the integration of speech technologies in the revision process at the UN Geneva InnoVent conference.
The event, hosted by the Division of Conference Management (DCM) at UN Geneva, focussed on how emerging technologies are changing the conferencing landscape and showcased innovative workflows and practices in conference management at various international organisations.
Alina and Dragoș presented in the Customizing speech-to-text solutions at international organizations panel chaired by the Senior Programme Management Officer of the Production and Support Service at DCM Geneva. The panel also included contributions from WIPO's Head of Advanced Technology Applications Center, the DCM Geneva FAST Project Manager, the CIO of the Grand Conseil du canton du Valais, and the Information Systems Programme Officer at the UNFCCC.
The other panels of the event included:
Integration of machine translation into documentation workflow;
Digital tools for conference interpreting;
Conference interpreting, an evolving profession;
Organizing Accessible Intergovenmental conferences.
Visit the event webpage to access all slides and listen to all presentations
This event is another example of the excellent knowledge exchange activities between the Leeds Centre for Translation Studies and international organisations, as part of their IAMLADP UCG collaboration. The International Annual Meeting on Language Arrangements, Documentation and Publications (IAMLADP) Universities' Contact Group (UCG) acts as a liaison point for the further development of relations and co-operation between international organizations and training providers/universities.