Medieval Group field-trip: Knaresborough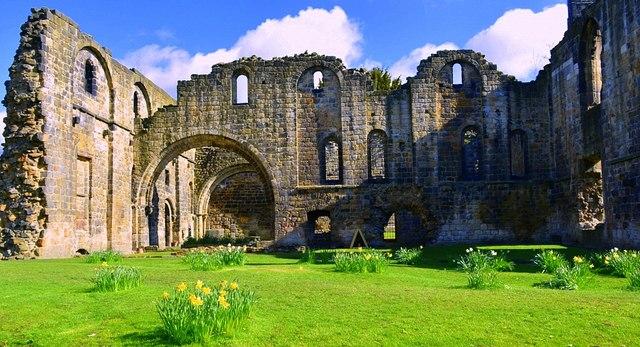 Date: Saturday 11 May 2019
Location: Off-campus
Cost: Travel and entrance fees subsidised
The Medieval Group concludes the 2018-2019 programme with a field-trip to Knaresborough, which will tour the castle, chapel, and hermit's cave.
The Medieval Group is taking a field-trip to Knaresborough on Saturday 11 May 2019. This excursion will tour the remains of the Norman and medieval castle, the fifteenth-century chapel of Our Lady of the Crag, and the hermit's cave associated with Sir Robert of Knaresborough (c. 1160-1218).
Participants will assemble at Leeds train station in the late morning and will make the journey together by train to Knaresborough, arriving around 11:00. Robert Woosnam-Savage (Curator, Royal Armouries) will give a tour of the castle, followed by a break for lunch. After this, the group will visit the hermit's cave and go on a guided tour of the chapel. Participants can then spend free time in Knaresborough and journey back to Leeds whenever is convenient.
Train fares and entrance fees will most likely be subsidised - to know if this is possible, a firm idea of numbers is essential. Therefore, please RSVP as soon as possible to Melanie Brunner (M.Brunner@leeds.ac.uk) to confirm attendance, and also for any queries.
All are welcome!
Medieval Group
The Medieval Group is the oldest medieval studies-related association at the University and is run by a committee of volunteers from among the staff, PhD, and MA students in the Institute for Medieval Studies (IMS). The Group runs various events, from a seminar series to trips to sites of medieval interest, and invites speakers from a wide range of interdisciplinary topics.
Lectures and workshops are held in the Le Patrouel Room (4.06) on the fourth floor of the Parkinson Building. Meetings start at 17:00 with tea and biscuits, with the speaker beginning promptly at 17:30. For further information, contact Melanie Brunner (M.Brunner@leeds.ac.uk).