A new exhibition curated by MA students considers women's health and issues of consent in Victorian Leeds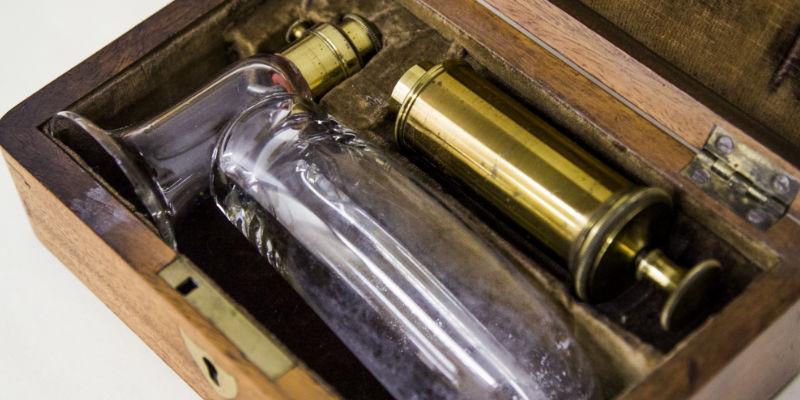 Abagail Bumpus writes about a recently opened exhibition curated by a group of MA Curating Science students as part of an Interpretations module.
"It's wild how much research we did and how little we get to share," Ciara Johnson says to me as we work on interpretive labels for our Questions of Consent exhibition back in November 2019.
We are Curating Science Masters students in the School of Fine Art, History of Art and Cultural Studies who, along with Yuzhu Xue (Valerie), Stasy Simeonova and Charlie Hook, have just put together our first exhibition.
With just the five of us, our group is quite small, but it means that we have had a great opportunity to get to know each other. We come from diverse nationalities (Chinese, American, French-Canadian and Bulgarian) and degrees (Astrophysics, Marine Science, Art History, English Literature, and the History of Science and Technology).
For our Interpretations project, we were asked to curate an exhibition on what healthcare was like in Victorian Leeds. This was the first time any of us had put together an exhibition.
Under the supervision of Dr Michael Finn of the School of Philosophy, Religion and History of Science, we looked through the Medicine and Health collection of the Museum of the History of Science, Technology and Medicine at the University of Leeds.
The collection consisted of eight boxes, which doesn't sound like much, but each was packed full of scalpels, retractors, forceps and syringes. There are over 800 items documented in this collection.
We went in with clear ideas about what we thought our exhibition would be about but, when confronted with the archive, these ideas quickly changed. Thermometers or ophthalmoscopes originally seemed like promising options for our exhibition, since Leeds played a key part in the development of these instruments. Yet, the collection did not have enough of either to fill a display case. Looking at what we had, there seemed to be many objects relating to women's health. This included specula, pessaries and a breast pump.
At every stage we were spending time researching — first about the Leeds General Infirmary, then about Victorian midwifery, and finally about women's health and issues of consent.
Through working with the material in the archive and our research, we eventually agreed on Questions of Consent: Women's Health in Victorian Leeds. This topic neatly folded together three key concepts: a connection to Leeds, objects that we had access to, and a topic we felt was still relevant today. We ask visitors to the exhibition to consider the core question of the exhibition: how much say do women have over their own bodies?
As we worked on our exhibition labels, we drew on all the research we had done. With each draft, we streamlined our text, making it punchier and pithier, using skills we developed in class.
Questions of Consent: Women's Health in Victorian Leeds is the culmination of many hours of research and exceptional teamwork. It has been so rewarding to see a physical manifestation of this work.
The exhibition you will see in the common room of the School of Philosophy, Religion and History of Science on the ground floor of the Michael Sadler is just the very polished tip of the iceberg.
More information about the exhibition can be found here.
Image
Breast Pump, 19th Century. Medicine and Health Collection, Museum of the History of Science, Technology and Medicine, University of Leeds. Photo by Yuzhu Xue.