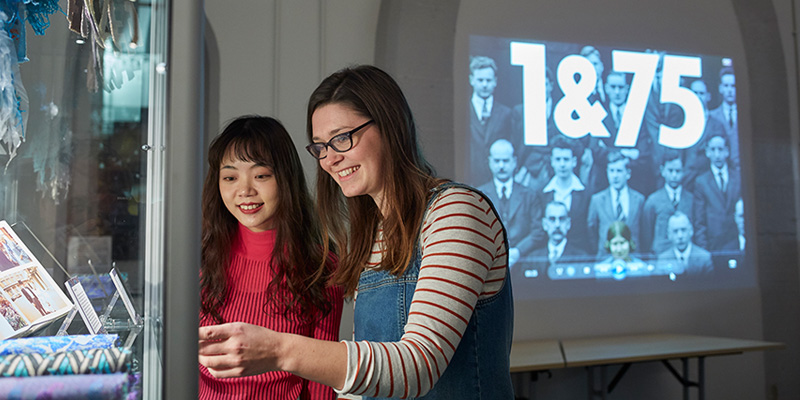 The School of Fine Art, History of Art and Cultural Studies has a number of scholarship opportunities available.
Details of fees for PhD study and a guide to our accommodation costs can be found on the Research degrees website.
Amanda Burton Research Scholarship
The fund was established in 2013 in memory of Miss Amanda Burton, who took an interest in the University of Leeds and the Audrey and Stanley Burton Scholarships Trust. The purpose of these scholarships is to assist students from the UK/EU to undertake full-time research study in the School of Fine Art, History of Art and Cultural Studies (in the area of Fine Art) at the University of Leeds. The award will cover fees at the University of Leeds standard UK rate and maintenance for up to 3 years. Contact the School for more information. Deadline: 3rd June 2019.
The University is accepting applications for our Doctoral Scholarships. There are a number of fully funded places for 2019 entry. Successful applicants will receive payment to cover their University tuition fees up to three years, along with a maintenance grant matching the Research Council UK rate. The applications are open to UK/EU or international fee paying applicant. Deadline: 1 April 2019.
Other awards may include:
Montague Burton PhD Fee Bursary in Jewish Studies
China Council: University of Leeds Scholarship
WRoCAH Collaborative Doctoral Award (CDA) Studentships
The School is currently seeking applications for Collaborative Doctoral Awards (CDA) to begin in October 2019.
We are seeking highly motivated individuals, with academic and professional experience and a willingness to contribute to the research needs of our partners, to undertake fully funded doctoral research, supervised by members of academic staff and industry professionals in the following projects:
How do ethics influence the development of policies for accessing public collections which are essentially restricted by law: A case study of the Royal Armouries
From Engagement to Empowerment: The Future of England's Heritage Open Days
Examining the Importance of Cross-Curricula Formal Learning in a Country House Setting
Three projects are available in this themed network: Work, Play, Space, and Identity: Making and Remaking the North Wing at Chatsworth
For details of all scholarships and application forms, please visit the Postgraduate Scholarships at Leeds website.
Applying for scholarships
To be considered for a scholarship, you must have completed an application for PhD study and have received an official offer from the University of Leeds, secured in advance of the scholarship deadline.
Any scholarship application which does not have an official offer included will be automatically rejected. Exceptions to this are as follows:
missing one reference/document;
interview has taken place/imminent within a week of the deadline for School recommendations to the Postgraduate Scholarship Office;
full supervisory team in place but missing documentation.
Exceptions can also be made with cold applications (no official offer, no contact with the School or supervisors prior to application) as follows:
full application is received on the scholarship deadline, with no missing documentation;
the application will go out to review but there must be a response from the School within two working days. This must include a decision and authorisation from the Director of Postgraduate Research Studies and the approved supervisory team.
We also recommend that you contact preferred supervisors before submitting an application and well in advance of scholarship deadlines.
This helps the School identify potential scholarship candidates and recommend other funding opportunities that you may be eligible for. Supervisors will also have time to prepare supporting statements that are well informed and tailored to each candidate and funding opportunity.
Please note that a scholarship application form will be required for each scholarship.
Supporting documents for scholarships
The following paperwork will be required:
Scholarship application
scholarship application form
two academic references
transcripts and certificates including grading system of your undergraduate and postgraduate degrees
PhD application form
formal offer letter
IELTS certificate (where appropriate)
CV
PhD application
PhD application form
two academic references
transcripts and certificates inlcuding grading system of your undergraduate and postgraduate degrees
IELTS certificate (where appropriate)
CV
research proposal (1,000 word minimum)
Your references must be submitted using the University of Leeds template, available here. It is the applicant's responsibility to ensure the references are provided within the deadline.
Self-funded PhD candidates
Details about funding your PhD, including information on fees and postgraduate doctoral loans, can be found on the Research Degrees website.
We advise that you regularly check the Postgraduate Scholarships at Leeds website as opportunities become available at different times across the year.
Scholarships office
For details and guidance, please contact the Graduate School Administrator.
For more information
Contact the Postgraduate Research Administrator fineartpgr@leeds.ac.uk.