The Human Rights Dimension of Sudan's Revolution and Transition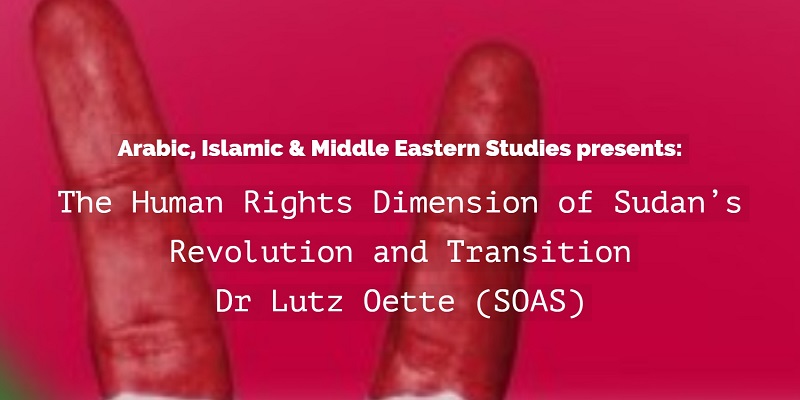 Date: Wednesday 23 October 2019, 17:00 – 18:30
Location: Michael Sadler RBLT (LG.X04)
Cost: Free to attend
Dr Lutz Oette (SOAS) speaks at the first Arabic, Islamic and Middle Eastern Studies public lecture of the academic year.
Speaker's biography:
Dr Oette is a Reader in International Law and Director of the Centre for Human Rights Law, SOAS, University of London. He is the editor of 'Criminal Law Reform and Transitional Justice: Human Rights Perspectives for Sudan (Ashgate, 2011) and the co-editor (together with Mohamed Abdelsalam Babiker) of 'Constitution-making and human rights in the Sudans' (Routledge, 2018). He is the co-author (together with Ilias Bantekas) of 'International human rights law and practice' (2nd edn., Cambridge University Press, 2016).
Abstract:
Sudan faces a host of challenges in its current transition period following the revolution that began in December 2018 and resulted in the fall of the al-Bashir regime. Satisfactorily addressing legacies of human rights violations and undertaking reforms to ensure the rule of law are important components of, and a crucial yardstick for the legitimacy and success of the transitional process. The lecture argues that a focus on accountability, the rights of victims, specific violations, and legal mechanisms needs to be complemented by an approach that seeks to tackle deep-seated structural factors, i.e. the causes of many human rights challenges in Sudan. The transition may not be able to address the full spectrum of human rights issues, not least considering the obstacles that prevailing power structures may pose, but will make a major contribution to greater respect for human rights in Sudan if it lays the foundation for fundamental reforms.
Please feel free to share with your contacts.
All welcome!