We're proud of our students - a School community poem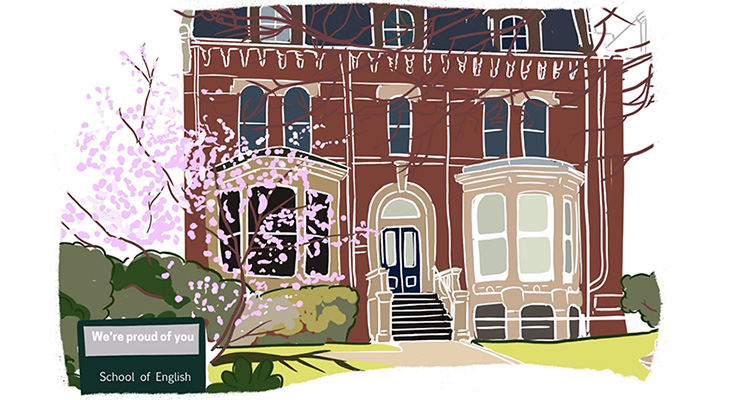 The School of English has shared a special video dedicated to students and their achievements, reflecting on a difficult year.
To acknowledge the amazing achievements of each one of our students getting through this extraordinarily difficult time of lockdown, Education Service Officer Rosie Kightly Stoker had the idea of making a video to mark the end of our academic year.
"I was met with an overwhelming response of support from the School's teaching, support and managerial teams to be part of the idea," explains Rosie.
"It was important that there was also a voice of celebration for the students, from the students; so following a recommendation from one of her tutors, I contacted Ruby Fatimilehin to write a short piece about the lockdown. Her writing beautifully captures this moment in time with an uplifting voice and I can't thank her enough for taking part in this project, especially whilst preparing for her assessments."
"My friend, Aine Mullan, also contributed a wonderful drawing of our School of English which visually pulled the video to life."
It has been one of the most challenging times we will all collectively go through and I hope that anyone who watches the video knows how proud of them we are.
"I've certainly been inspired by every person I've worked with; staff and students, and I am incredibly proud to say that I am part of the University of Leeds, School of English. You're all truly remarkable!"
The video is now available to watch online.
Image credit: Aine Mullan.