Students' Union executive leadership success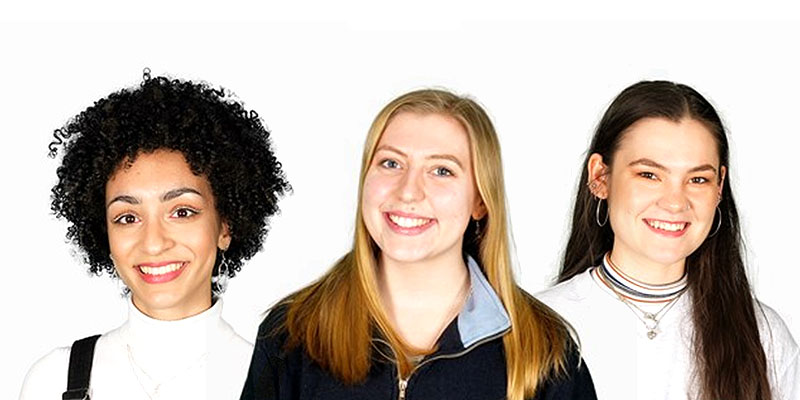 The 2020-21 election results confirm three School of English students will lead in policy-making, progression and inclusion.
In the results announced on Friday 6 March, three students from the School of English were revealed as part of the new Student Executive within the award-winning Leeds University Union.
Third year BA English Literature and Theatre Studies student Isobel Walter has been appointed Union Affairs Officer:
"As Union Affairs Officer, I'll be chairing the board of trustees and making sure that LUU's money is being spent in the best way to benefit our student members," she explains.
"I've been engaged with LUU both through societies and as the Forum Facilitator over the past two years and I'm really passionate about making it work for students in the best way possible."
I've had such a great experience in the Union and want to show others how they can too. I want to help students engage with where money is being spent and how they can have a say, continue making the union an accessible and inclusive space and reduce our environmental impact.
The Union's Community Officer has been confirmed as Charlotte Morton, who is currently studying BA English Language and Literature:
"I'm so grateful to have been elected as LUU's Community Officer for 2020/21 and I can't wait to start implementing my ideas. It was brilliant to receive such enthusiasm from other students about my policies throughout the campaign and I couldn't be more excited for my year in office to begin."
Third year BA English Literature student and undergraduate representative Carolina Hall-Rodrigues won the position as Education Officer.
The School of English congratulates Carolina, Charlotte and Isobel on their success and valuable contribution to student life and welfare at Leeds. They will take up their new positions in August 2020.
Read more about the new Student Executive at luu.org.uk and find out how you can get involved with The English Society.
Image credit: Leeds University Union