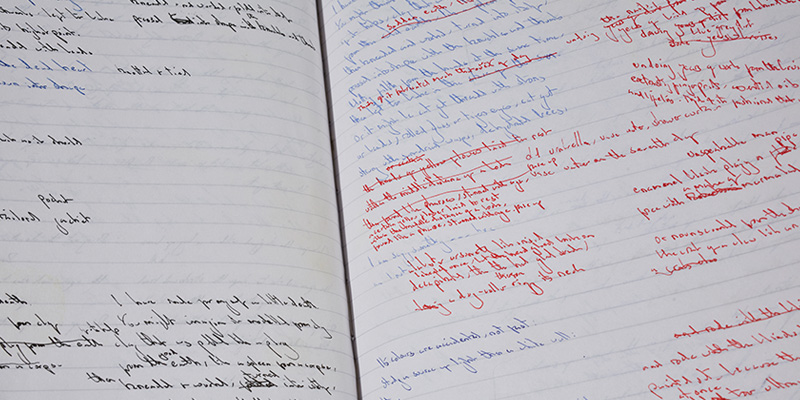 Poetry and Audience is a poetry magazine that is published biannually in the School of English. Established in 1953 by one of our undergraduate students, it quickly developed an international reputation. You can find out more about its history in this Special Collections Research Spotlight.
The magazine provides an invaluable opportunity for emerging poets to be published alongside more established ones. Many editors and contributors have gone on to great success, including Tony Harrison, Ken Smith, Carol Ann Duffy, Ted Hughes, Seamus Heaney, Philip Larkin, and Liz Lochead.
Poetry and Audience is edited by our postgraduate students, and winners of our Alison Morland Poetry Prize have their work published in the magazine as part of their award.
How to subscribe
A subscription to Poetry and Audience lasts for one year, and includes both the Winter and Summer editions. If you're a new subscriber, you'll also receive one back issue for free as a welcome gift.
An individual subscription costs £6 (£7 non-UK) and an institutional subscription costs £7 (£8 non-UK). To subscribe, post a cheque made out to 'The University of Leeds' to the School of English.
How to submit
The editors will consider submissions from poets of all ages, styles, and experience levels. Translations, short prose, and reviews of recent poetic publications (correctly and fully referenced) are also welcome. You'll usually receive a response to your submission within 12 weeks.
Contact us
You can contact the editors by post at the School of English (addressed to Poetry and Audience). If you're writing from abroad and expect a reply, please include international reply coupons or other postage.
You can also reach the editors at engpanda@leeds.ac.uk or by fax at +44 (0) 1132 334 774.