Third Tenter Hook anthology showcases creative writing at Leeds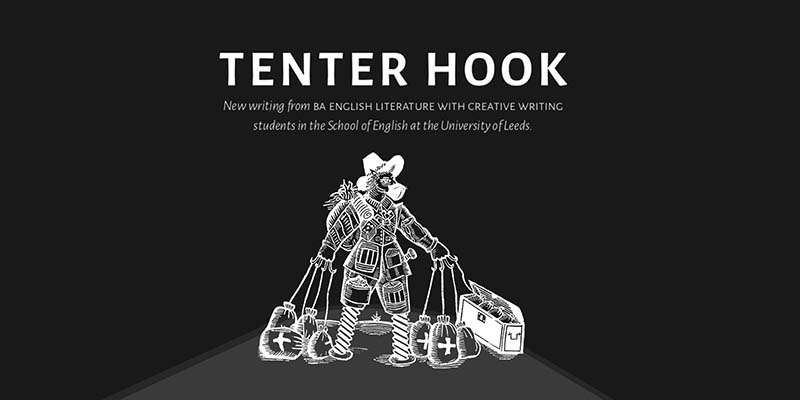 A new volume of breakthrough creative writing from the School of English has been released as a free e-book.
Almost a year in the making, the 2021 Tenter Hook anthology comprises a collection of far-reaching, inspired work by undergraduate students studying our English Literature with Creative Writing degree and features prose, poetry and scriptwriting.
On tenter hooks
Dr Kimberly Campanello, who edited the volume, explains the origin of the title:
"Tenter hooks (or 'tenterhooks') were ever-present in Leeds during the city's cloth-making boom. Wet woollen cloth was hung on hooks attached to wooden frames called 'tenters' in order to prevent it from shrinking as it dried.
"In the eighteenth century, the fields along the River Aire were lined with tenter frames, and to this day we have Tenter Hill and Tenter Lane.
"According to the Oxford English Dictionary, the word tenterhook is associated with stretching, straining, unsettling, and creating suspense and refers to the state of being 'on tenter hooks'."
Connecting digitally
The new volume is the third in an annual series, and debuts this month in a free digital edition.
Dr Kimberly Campanello: "It goes without saying that this particular year has been challenging for all and devastating for many. Even so, my students and my colleagues have been resolutely determined to share our common passion for literature and writing, albeit on-screen."
Tenter Hook is designed and typeset by Dr Brett Greatley-Hirsch. He adds: "Dr Kimberly Campanello inaugurated Tenter Hook in 2019, back when the BA English Literature with Creative Writing course was still in its relative infancy. Not knowing how popular it would quickly become, I agreed to oversee production."
In just two short years, Tenter Hook has ballooned from a 70-page booklet to a substantial, 236-page paperback.
Popular print copies will also become available this year:
"With generous support from the Head of School, Professor Andrew Warnes, this year's issue will also be available in print. Dr Campanello and I would also like to thank Finlay Charlesworth, a final year student who took on the role of assistant editor."
Electronic copies of Tenter Hook Volume 3 and previous issues are available at tenterhook.us