The International Association of Conference Interpreters (AIIC) presentation to students from the Centre for Translation Studies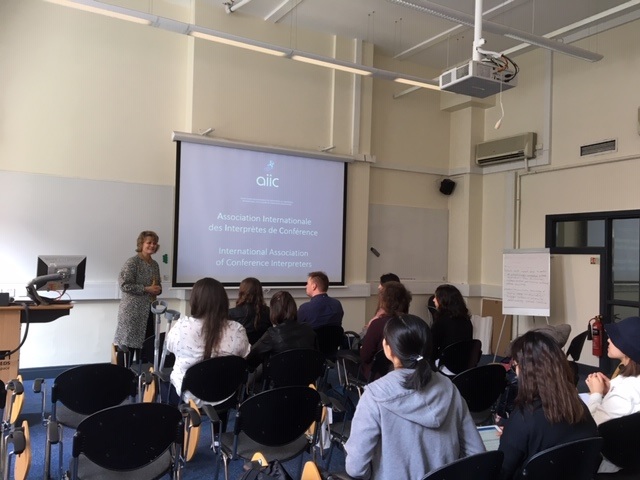 CTS students enjoyed a visit from Barbara Bethäusser-Conte of the AIIC.
On 30th May 2019, the University of Leeds welcomed
AIIC
member Barbara Bethäusser-Conte who gave a presentation to its current Conference Interpreting Masters students on AIIC as an association: its objectives, its work, its standards and its benefits. There were a diverse variety of A-languages represented in the audience, including Chinese, Portuguese, Spanish, Arabic, Italian and English, all eager to make the most of this useful opportunity to hear from an experienced professional Interpreter.

In outlining the objectives of AIIC, whereby it represents the interests of Conference Interpreters and Sign-language Interpreters globally, Barbara was able to share with the audience some very useful insights into the importance of proper working conditions and ethical standards as pillars of the profession. She stressed the importance of teamwork, including with technicians, and the requirement for AIIC members to adhere to the highest standards of professionalism, such as trustworthiness, confidentiality and preparedness, so as to uphold the status of the profession globally. She also discussed the research and solidarity side of AIIC, importantly remembering those colleagues who are living and working in conflict situations to bring communication to those who need it the most.

All present were of course keen to hear more about the process of becoming an AIIC member, beginning with becoming a pre-candidate, whose benefits allow new interpreters to network with colleagues and become known in professional circles. As for working towards full membership, Barbara gave some very useful and detailed advice on how to collect the relevant evidence in the form of contracts. Most of the audience having never experienced contracted work before, this came as a welcome insight, as the detailed list of criteria that constitute a professional Interpreting contract was somewhat of a surprise! Nevertheless, the student Interpreters were left reassured that proper contracts and invoices were key to securing high-quality work and felt confident in going about managing these documents in the future.

Everyone present thoroughly enjoyed Barbara's presentation and the Conference Interpreting students and staff would like to extend a warm message of thanks and appreciation to Barbara for her time and expertise. There will surely be a number of new applications for AIIC pre-candidacy from this year's student Interpreters at the University of Leeds in the very near future.

Report by David Gray
Master in Conference Interpreting and Translation Studies