Jonathan Tobutt publishes new book: The Impact of the British Oboist Léon Goossens: A Breath in Time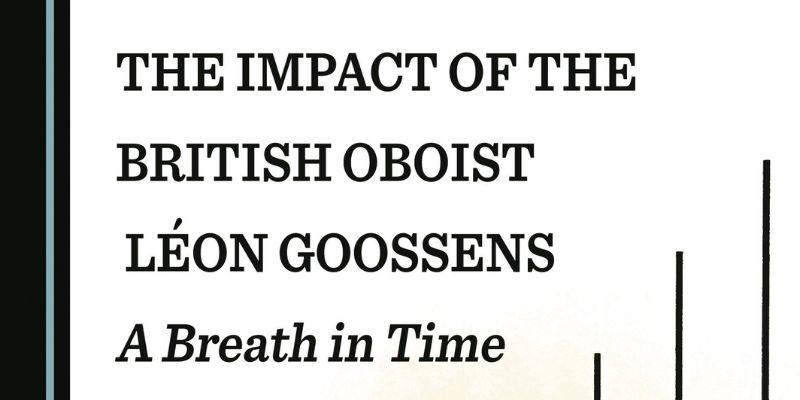 Visiting Research Fellow, Jonathan Tobutt, has reworked his PhD thesis into a new book, published by Cambridge Scholars Publishing.
Description from the author
In 1907 in Liverpool a ten-year-old boy was presented with an oboe. The significance of this act was to change the course of oboe playing in Great Britain. The boy's name was Léon Goossens (1897–1988). Within the context of the history of the oboe Léon holds an extraordinary position in the oboe world. His rise from principal oboe at the Queen's Hall Orchestra aged seventeen to internationally celebrated soloist was meteoric. Unique for an oboist, he had a loyal national and international public following; no other oboist before or since has enjoyed such acclaim from within and outside the classical music world. As well as his influence on a generation of oboists, his contribution to the twentieth-century renaissance of British music is considerable; a significant legacy of forty-nine works by British composers was created for him including hitherto previously unpublished and unknown works written for Léon by the British composer Alan Richardson (1904–1977) uncovered during my research.
This study collates material across a wide sphere of sources addressing inconsistencies where evident to present a comprehensive account of Léon's career and style of performance. His playing was described as the antithesis of the plaintive and straight style that defined the British oboe sound of the early twentieth century. Despite his success as a performer, Léon's contribution to twentieth-century oboe performing practice has been relatively ignored. Focusing upon his performing strategies (his unique use of tone colour, vibrato, rubato and tempo, elements that collectively defined his soundworld.), approach to programming and central role in the development of the British oboe repertoire, the current marginalisation of Léon's legacy within present-day performance practice is reassessed.
Although celebrated as an orchestral player, his talent having been nurtured by Sirs Henry Wood and Thomas Beecham, Léon's universal reputation was achieved by a seemingly astute approach to developing a solo career through recording and broadcast mediums in addition to live national and international performance platforms that collectively made Léon Goossens into a household name. Léon's brother Eugene as an established transatlantic conductor from the mid–1920s notably with the Rochester Philharmonic Orchestra, later principal conductor of the symphony orchestras of Cincinnati and Sydney, helped to launch Léon's career as a soloist. Léon's international debut recital was in 1928 at the Guild Theatre in New York where he performed with the Marianne Kneissel Quartet and, also premiered the Sonate Pastorale for Oboe and Piano by Harvard musicologist David Stanley Smith. Further performances in Boston in 1929 featured the premiere of Eugene Goossens Concerto for oboe and orchestra Op.45 written for Léon with the composer at the piano; Léon gave a performance in the orchestral version with the New York Philharmonic Orchestra in 1939. New York became the platform that relaunched Léon's career in 1964 following his recovery from a devastating motorcar accident, this time facilitated by his friend, the conductor and composer Gene Forrell. Even though Léon's performance schedule had taken him to Australia, Canada, the Middle and Far East, New Zealand, Russia, the USA, and many Baltic and European cities to great acclaimed, it was a devoted British audience that enabled him to sustain a solo career for over fifty years (he continued to perform into his 80th year) from his long association with national and local music organisations; he was an egalitarian performer happy playing in large concert halls as well as at small music society venues.
An exploration of the correlation between the instrument's mechanisation and its seemingly universal decline in popularity during the nineteenth century, such that strikingly polarised attitudes towards the instrument as well as a compositional vacuum had been well-established by the turn of the twentieth century, places Léon's contribution in the context of the oboe's status. Furthermore, how the influence of the French School of playing was established in Great Britain that ultimately paved the way to a turning point for a British style of oboe playing which emerged during the 1930s defined by Léon's fluid style grounded in the French tradition.
The re-mastered release in 2002 of Léon's 1927 recording of the Quintet for oboe and strings by Arnold Bax proved to be portentous for my book. Léon's distinctive reading is so radically different in character to modern-day recordings; his evocation of the landscape and folklore of Ireland, reflecting Bax's relationship with Celtic traditions, challenges the uniformity of an English pastoral style of playing by present-day oboists. In a case study of Bax's work, Integrating performance concepts: Reconciling historical performance practices from a modern–day perspective, I review and discuss Léon's idiomatic style of playing in relation to Bax's concept of his work to present an alternative expressive platform and vision that contests the entrenched performance ideologies expressed in the late twentieth century recordings of the Quintet. Although Léon's practice ideals can be placed in a historical context, and as such unconnected to modern-day philosophies, his prominence within this context invites not only an understanding of his impact, but crucially his soundworld.
Biography
Jonathan has been an oboist, researcher, teacher, coach, examiner, support worker and librarian. He has a PhD and MMus in early twentieth century British oboe music performance practice from the University of Leeds. He also studied at the Royal Academy of Music, London. In 2010 Jonathan discovered and catalogued a large amount of unpublished material by the British composer and pianist Alan Richardson (1903–1978). A total of two hundred and seventy-nine hand-written manuscripts of which twenty-one were written for the oboe family. This was a significant find of hitherto unknown or forgotten works as well as scores thought lost. The Alan Richardson Collection is now accessible on request from the Royal Academy of Music Library, London.
Jonathan is a Visiting Research Fellow at the School of Music, University of Leeds. His research interests include British oboe performance practice that considers interpretative ideals within contemporary ideologies in the context of the British music renaissance and the historically informed performance practices of the early twentieth century. He is also exploring the soundworld of the oboe interacting with the elements rather than reflecting landscape, to consider the viability of striking presentation alternatives to established traditional performance concepts within a broader environmental context.