BSc Music, Multimedia and Electronics students win University of Leeds' Sir Peter Thompson Enterprise Award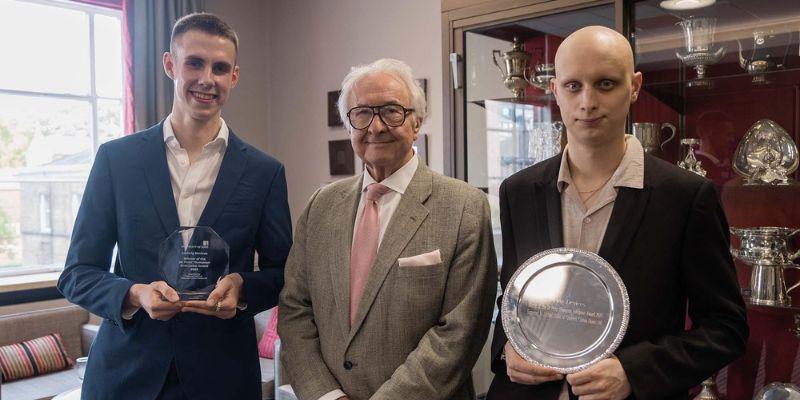 A product addressing a gap in the home music production industry, identified by two BSc Music, Multimedia and Electronics students, has won the University of Leeds Sir Peter Thompson Enterprise Award.
The prestigious annual award, organised by the University's business start-up service, Spark, comes with a huge cash prize of £5,000 generously gifted by Mr Michael Collins, Chairman at Goldcrest Custom Homes Ltd.
This year's winners are friends and business partners, Sol Harter and Matthew Twitchen (both 22), whose business venture, Ludwig Devices, will design and manufacture small affordable decibel meters for the burgeoning home music production community.
"The idea came about through a chance conversation," explains Sol. "Matt and I are both music producers with home studios. We both independently tried to by a low-cost decibel meter designed for small production studios and neither of us could find one because such a product didn't exist. We thought this was bizarre, considering how useful it would be to the huge numbers of 'bedroom' Producers, DJs' and musicians. It set us thinking that we had the skills and knowledge to design a low-cost version ourselves that amateur musicians could afford."
The aim of their product is to prevent long-term hearing damage that can be caused by prolonged exposure to loud and persistent noise.
Matthew explains:
The threshold for hearing damage is 85 decibels, but the most popular and commonly used monitoring speakers for home studios have a maximum decibel rating of 100-110 decibels. There are decibel measuring tools available for building sites, factories and nightclubs but these products are not suitable – or affordable - for the home environment, so it's an untapped market for us.
The Sir Peter Thompson Award requires selected students and graduate entrepreneurs to present their business ventures to a judging panel. Mr Collins, who chaired the panel, said:
Matthew and Sol had an exceptionally well thought out product and business plan. They were the only candidates for Sir Peter's prize to have already thought about and incorporated responses to challenges and suggestions made by myself and the panel, or had a detailed plan to do so.
"It was very impressive." Says Sol: "The cash prize is an incredible boost and we're very grateful to Spark and to Mr Collins. It means we can now accelerate our plans and go straight from concept to an initial production run with minimal additional fundraising."
Matt and Sol are already researching components for their first prototype and will be designing a custom Printed Circuit Board using the embedded systems development and design skills honed in their degree. They hope to be able to launch their first product in around six months' time, with a first small run of around 500 units.
Kairen Skelley, head of Student start-up at Spark, said:
It is especially exciting to see Sol and Matt using knowledge and expertise gained from their degree studies here to develop a novel business venture with such great potential!