Curious minds set new record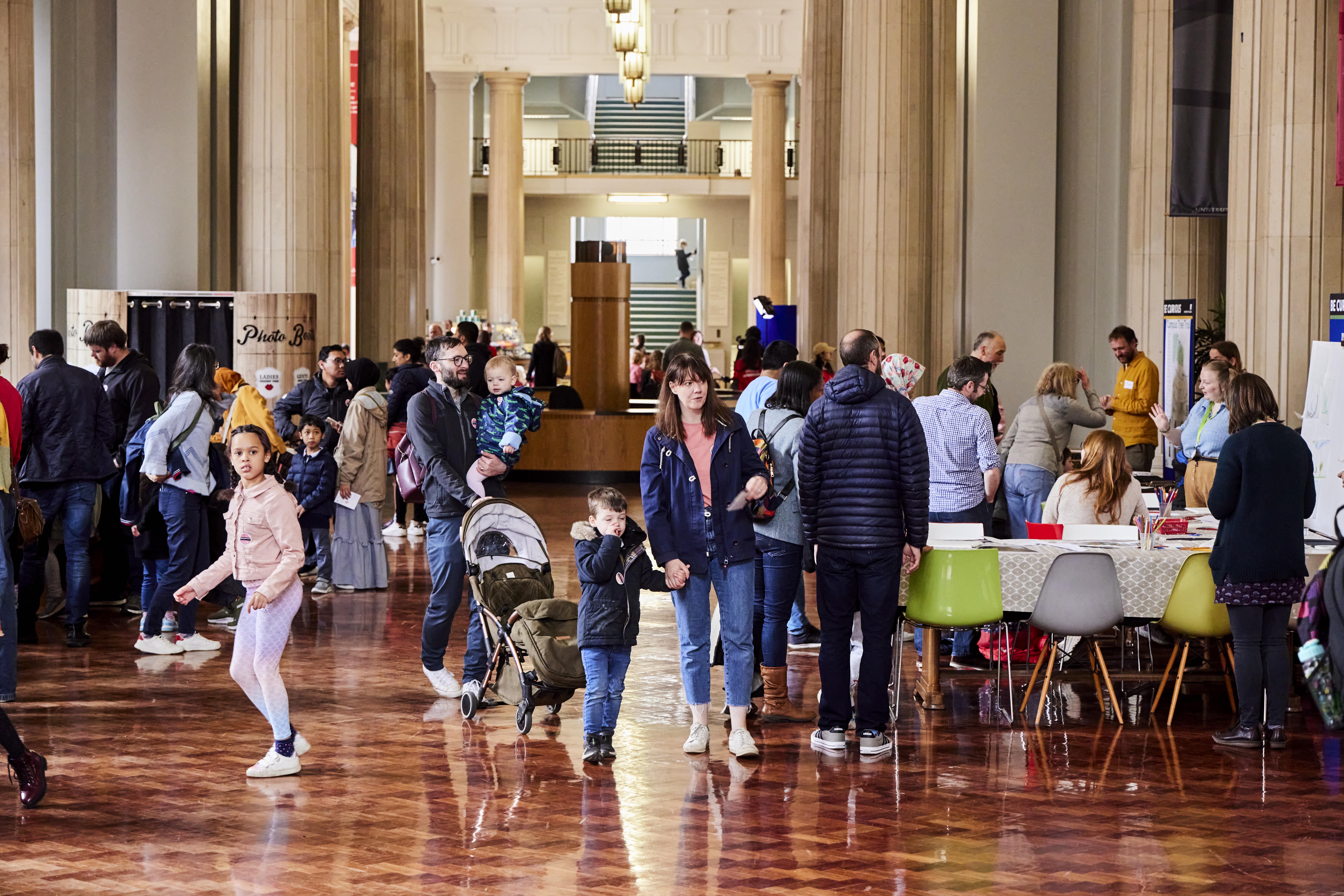 Record numbers of visitors flocked to campus on Saturday to sample free family-friendly activities showcasing the University's world-changing research.
More than 1,600 people travelled from across West Yorkshire to take part in the latest instalment of Be Curious – 25% up on previous years' attendance figures.
They were treated to a jam-packed programme stretching across locations including Parkinson Court, Baines Wing, the Michael Sadler Building, stage@leeds and the M&S archive. There was the chance to get hands-on with the amazing research that happens at Leeds, exploring what goes on in our labs, studios, workshops and lecture theatres and seeing how it impacts our lives.
Under the banner of 'creating, doing, inspiring', there was something for everyone to enjoy with more than 40 interactive stalls and activities, from filmmaking and photography to DIY spell books.
Fantastic feedback
Celine Roblin-Robson, the University's Public Engagement Officer, said: "This not only shows how popular Be Curious is as a growing brand, but also how much appetite for learning as a family is out there.
"This was reflected in the amazing comments we received throughout the day from parents who were so happy to see their children learning new things and getting to explore new ideas together outside of school.
"We're amazed at the commitment to attend Be Curious – we still had people arriving at the end of the day.
One of the biggest highlights was seeing all the happy faces – researchers and visitors alike. How incredible to be able to share what you love with others, particularly the younger generation, inspiring them to find something new they love too.
Unique experience
Among the highlights from the exciting activities set up by Arts, Humanities and Culture researchers, were the Star*ts immersive music and spoken word experience and the stage@leeds Young Company Taster session, where children and teenagers could explore their theatrical side.
Speaking on behalf of the Public Engagement team that organised the event, Celine added:
Being able to get hands-on with research is such a unique experience, and being able to use this equipment really showed people what it's like in the lab.
Be Curious is very much a highlight in the University calendar, and staging it is the result of hundreds of colleagues working collaboratively, from the communications and conferencing teams to the Facilities Directorate, especially those working in the cafes, parking, security, health and safety and cleaning.
Particular mention, however, goes to our research community, who gave up their time freely to throw the spotlight on the amazing work they do in trying to address some of the biggest challenges facing the world today.
Invaluable contribution
Celine said: "We would like to thank all the people that make Be Curious the success it is. It's thanks to them that everyone who steps through the door has a wonderful experience on campus.
"We had a record number of stalls and activities this year and everyone involved participated with genuine enthusiasm and excitement, and that makes putting on Be Curious all the more rewarding.
Watching how children engage and connect with your research and ideas, being inspired and wanting to learn more – that's why we do this. So, thank you for your invaluable contribution to this year's programme.
"And to everyone who attended, thank you so much for coming along. We look forward to doing this all again next year!"