Postgraduate researcher Iain Dyson presents paper at Sheffield Central Library talk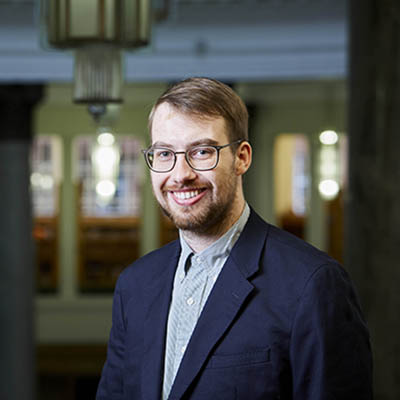 Medieval Studies postgraduate researcher Iain presented a talk at Sheffield Central Library regarding Yorkshire's involvement in the Crusades.
On 8th March, one of our esteemed postgraduate students Iain Dyson gave at the Sheffield Central Library, as part of the series of talks that covers the local history of Sheffield, Yorkshire and the Peak District.
Iain's paper, entitled 'Yorkshire and the Fifth Crusade', drew attention to the participation of individuals connected to Yorkshire, how they were recruited, how they financed their journeys to the East, and the relationships they had with each other.
He began by introducing the Fifth Crusade itself, which took place between 1217 and 1221 and marked the first time a major crusading expedition had targeted the Nile Delta of Egypt.
Iain went on to explain that through analysis of several administrative documents, including judicial records and charters, he has been able to find evidence for a large number of participants from Yorkshire taking part in the Fifth Crusade.
In the paper he drew particular attention to a charter of John de Lacy, lord of Pontefract, which was signed during the crusade during the siege of Damietta. Through a close analysis of the charter's witness list, he was able to determine that many of the crusaders who travelled to the East with Yorkshire landowners were parts of contingents formed before departure and that they remained together throughout the duration of the crusade.
However, despite the high number of recorded participants from Yorkshire, Iain argued that the Fifth Crusade was not a very popular venture from within the county, and England as a whole. He highlighted in the paper a list of points that suggest this, including a lack of fundraising for the campaign, the limited number of barons who travelled to the East, and that a large number of those who are recorded as travelling to Egypt from Yorkshire were non-combatants.
The talk was followed by a question-and-answer session which drew great questions from the audience of over thirty attendees. There was particular interest in knowing more about the participant Gerard de Furnival, lord of Hallamshire, who is connected to the city of Sheffield. The Q&A also covered the reasons behind changes in crusading strategy, how much is known about participants both before and after their departure on crusade, and the size of the crusading army.