My Dad Wrote a Porno gang met at Leeds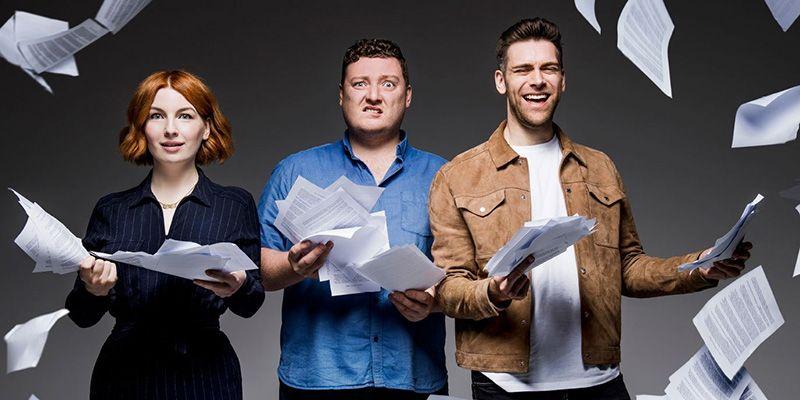 From a kitchen table to the Royal Albert Hall: how three Leeds alumni turned some dubious content into comedy gold.
As the gang announce the end of their record-breaking podcast, we celebrate their Leeds origin with this article from the Spring 2021 issue of our alumni magazine.
To start, we admit it: until now, we've avoided mentioning three witty Leeds alumni whose conversations have gone stratospheric. It's the title of their podcast, you see, and the content. This isn't typical alumni magazine material.
But with more than 200 million downloads, several international comedy awards, an HBO special, a bestselling book, guests like Emma Thompson and Lin-Manuel Miranda, a second world tour (the last time round they filled the Royal Albert Hall) and rumours of a film, it's time we face up to the phenomenon that is My Dad Wrote a Porno.
This is a success story that blasted out of Leeds. Whether you're a 'Belinker' or you're oblivious to podcasts, what matters is that three university buddies created a blockbuster show and then they blinking ran with it.
Jamie Morton (Cinema, Photography and Television 2008), James Cooper (History 2008) and Alice Levine (English 2008) connected while working at Leeds Student Television (LSTV). They learned how to film, how to edit, how to present and how to collaborate. "We joke about how LSTV was then based in a cupboard opposite Old Bar," says Jamie. "But if it wasn't for that little room, we wouldn't have met. We had all this equipment and the freedom to start doing our own thing."
After moving down to London together, there came a Christmas lunch in 2015. Jamie couldn't wait to share his horror that his father had not only penned but also sent him the first few chapters of an embarrassing, smutty and badly-written book about the erotic adventures of a woman called Belinda Blumenthal.
Three hours of squirming, laughter and bewilderment later, they'd cleared the pub. The first chapter of Belinda Blinked by Jamie's father had been read aloud, critiqued and roundly ridiculed.
The friends still sit around the kitchen table to record genuine reactions to the oeuvre of Rocky Flintstone (Jamie's father's nom de plume) for their podcast. Alice and James joyously shred Rocky's choice of words, understanding of anatomy, absurd plotlines, concept of erotica and, inevitably, depiction of the pots and pans industry in which his protagonist works.
Weekly releases of My Dad Wrote a Porno have spawned a trending hashtag #pornoday. At live performances, fans dress as characters, body parts and even settings from the book. Off duty, strangers randomly share sex stories with the trio.
There's no fluke behind the friends' journey from LSTV to global brand. They came to the podcast with a collective media savvy. Alice is a BBC Radio 1 DJ and television presenter. James is a Bafta-nominated producer. Jamie is a director and editor.
Remarkably, no one has given up their day job. Jamie still produces and edits the podcast, cutting longer conversations and random digressions down to 45 minutes.
Ten years after graduating, Jamie returned to campus to share career insights with Media and Communications students, and he dropped in on LSTV's (now high-spec) television studio. He planned to spend the day in Leeds, then dash back to London for a Baftas party. Once he was here, though, Jamie changed his mind. He chose the lure of a student party in Leeds.