A history of the Workshop Theatre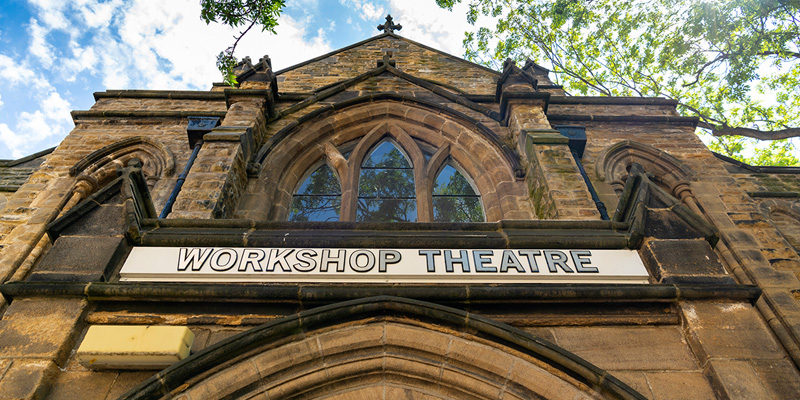 Beginnings
The teaching of theatre studies in the School of English began in 1968, with the launch of a pioneering Masters degree taught by Professor Martin Banham. The first student on the course was Christine Eccles, who went on to become a respected theatre director, writer, reviewer and script reader.
In 1977, theatre studies activity in the School moved into what is now the Workshop Theatre building, gaining a dedicated space and specialist facilities. Today, you'll hear the term 'Workshop Theatre' used in reference to both the building and the theatre studies community that is active there.
The next stage
In response to growing interest, teaching in theatre studies expanded to include PhD students in 1979, then undergraduate students in 1981 when the Workshop Theatre community formally became part of the School of English.
The popularity of theatre studies with our undergraduate students resulted in the launch of our BA English Literature and Theatre Studies course. At Masters level theatre studies is now integrated across our courses, making it accessible to a wide range of postgraduate students.
A community
Over its history, our theatre studies community has nurtured many prominent and talented individuals. An early example is celebrated Nigerian playwright and dramatist Wole Soyinka, who achieved an honours degree in English literature in 1957 and a doctorate in 1973.
Soyinka stayed in the city after his studies to write two of his first major plays - The Swamp Dwellers and The Lion and the Jewel - before moving to London, where he worked as a play reader for the Royal Court Theatre, and then returning to Nigeria in 1960.
In the late 1960s, the Nigerian Civil War broke out and Soyinka was held as a political prisoner for 22 months under accusations of conspiring with the Biafran rebels. He eventually fled Nigeria for the USA in 1994.
In 1986, Soyinka was honoured with the Nobel Prize in Literature, with the academy citing his "prolific store of words and expressions which he exploits to the full in witty dialogue, in satire and grotesquery, in quiet poetry and essays of sparkling vitality".
Notable alumni
Many of our other graduates have gone on to diverse and highly successful careers in the cultural industries, including:
Dakshin Bajrange (2011), director
Joyce Lee (2009), director
Winston Farrell (2007), playwright
Victoria Shaskan (2004), theatre company manager
Barnaby King (1997), performer
Patrick Mangeni (1990), playwright
Maria Delgado (1986), professor
Bart Sher (1986), director
Terry O'Connor (1984), performer
Charlotte Keatley (1982), playwright
Judith Greenwood (1981),designer
Garry Lyons (1981), playwright
Marian Orchard (1978) theatre marketing
John Godber (1978), playwright
Chris McCullough (1978), professor
Anuradha Kapur (1976), professor
Mayling Cheng (1976) production designer
John Mackendrick (1974), playwright
Sonny Oti (1972), professor
Rose Mbowa (1969), professor