SPRINGlish
SPRINGlish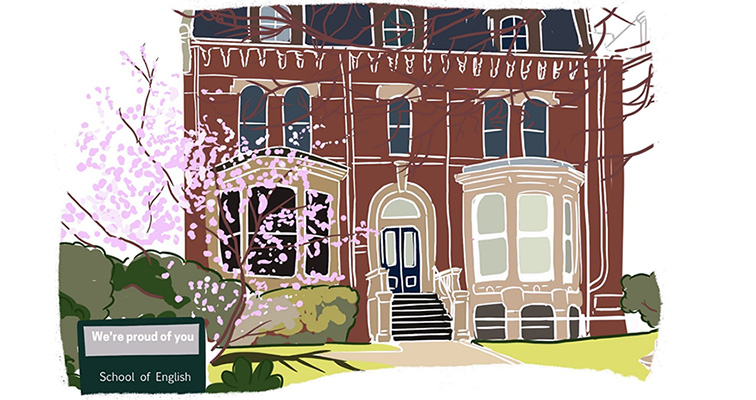 You are all invited to participate in a creative project and join the after-party for imaginative star turns and prizes, to celebrate our community in this lockdown year.
What a year it has been. We know that sometimes it's been difficult, frustrating, and weird, but we got there - together. Throughout, you've given us helpful suggestions for things we can do to make these strange times more manageable. We've been so grateful for your feedback, suggestions and continued support and good humour.
This year has shown us is that the School of English is about much more than our beautiful buildings – it's about the people – the students and staff who work together to make English at Leeds so special.
On that note...
Welcome to the School of SPRINGlish
Seize the daylight (saving hour) and flex your creativity. In the early hours of Sunday 28 March 2021, the clocks skip 1am and chime 2am.
Choose one hour during the vacation and bring to life that hour lost between GMT (Greenwich Mean Time) and BST (British Summer Time).
Select an activity from the list below, based on what grabs you as most enjoyable and that enables you to play to your creative strengths. This is a great opportunity for public visibility, as nominated and winning entries will be showcased on the University website.
Decide whether you want to work solo, or whether you want to recruit School of English course/module/house mates to collaborate on this. Everyone involved must be a student (UG or PG) or member of staff in the School of English (exceptions will be made for pets and children). Please make sure you follow the current social distancing guidelines and COVID regulations.
You need to make sure that you stick to the one-hour time limit when you write/make your piece (you might lead-in with additional time for pondering and planning).
It is within the rules to enter once as part of a group and once as a solo entrant.
All the entries will be displayed in an online gallery. Submit the piece as a file (text, image, or video) not as a link, and send your entries to englishstudentsupport@leeds.ac.uk with your university email address and student ID number. (By uploading your entry, you are giving permission to share.)
The closing date for entries is 10am, Monday 24 May. Look out for an invitation to vote for your favourite entries.
Be sure to join our School of SPRINGlish after-party and awards ceremony, with live performances, readings, and deciding votes. Book your free ticket on Eventbrite.
There will be a choice of themed prizes for each category, as listed below.
The subject is finding lost time
Select your mode of expression from one of the three categories below. Please specify the category when submitting your entry:
Scriven (max 60 words): a poem, haiku, short story, creative essay, play script, or screen play.
Mix (max 60 words + image/s): a cocktail/mocktail recipe, salad recipe, comic strip or captioned drawings, or a song.
Sculpt: a monument from household objects, a decorated cake, a spring bonnet.
---
For more information and to submit your entry, please contact englishstudentsupport@leeds.ac.uk
<iframe title="SPRINGlish" width="450" height="300" frameborder="0" scrolling="auto" marginheight="0" marginwidth="0" src="https://mymedia.leeds.ac.uk/Mediasite/Play/3d72ff3e391b47338366177231a262d91d" allowfullscreen msallowfullscreen allow="fullscreen"></iframe>