Louise Minchin shares menopause struggles as BBC presenter backs wool remedies for better sleep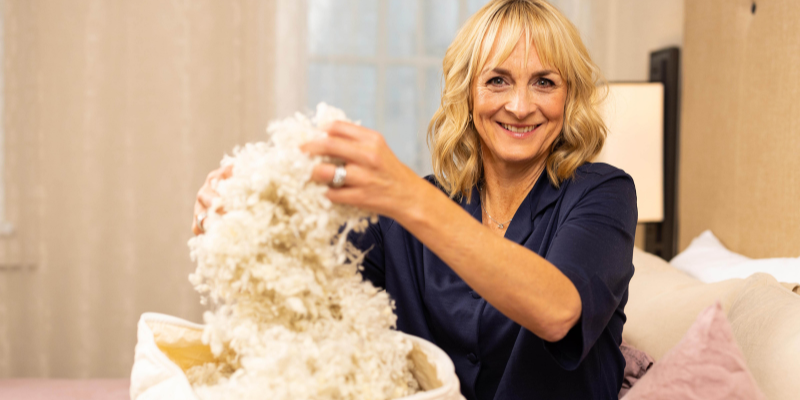 Louise Minchin has teamed up with Woolroom for its Menopause and Clean Sleep campaign after revealing how the menopause started to affect her job on BBC Breakfast.
The presenter, 54, has shared how she suffered from night sweats, heart palpitations, tinnitus and more and how the menopause started to affect her job on the BBC One breakfast news programme.
Louise said: "I suffered from night sweats, sometimes two to three times a night, and often five days a week. It's a miracle that I was able to get up and do my job. The menopause had a very real impact on me, it was incredibly physical. I had heart palpitations, tinnitus, all sorts.
"I remember an important interview with then Chancellor George Osbourne outside a JCB factory. I couldn't say the letters JCB, it was deeply embarrassing.
It was when it started affecting the way I did my job that I realised I had to get some help.
The TV star is working with wool bedding specialist Woolroom on its menopause campaign in time for Campaign For Wool's Wool Month. Research by the retailer found that 83 per cent of women face disrupted sleep during the menopause, with 74 per cent suffering from night sweats.
Testimonies revealed some of the methods women had tried to stay cool, including freezing hot water bottles, avoiding their partners and even sleeping on the kitchen floor.
University of Leeds research shows benefits of wool bedding
Woolroom is advocating wool's temperature regulating properties and the benefits of wool bedding and sleepwear – as demonstrated by University of Leeds research in 2016.
The sleep specialist partnered with Professor Ningtao Mao from the University's School of Design for research into the wadding used in different types of duvet on sale in the UK and their thermal insulation properties and moisture management, which are essential for keeping cool.
Tests showed wool allowed 67 per cent more moisture to escape over an eight-hour period compared to feather/down wadding, and 43 per cent more than polyester. Wool was also able to maintain the optimum body temperature for sleep (35.1C) for the longest.
Wool fibres – based on the protein keratin - were shown to naturally draw heat and moisture away from the body, helping to regulate temperature.
'No need for extreme measures'
Woolroom managing director and clean sleep expert Chris Tattersall said the University's research proved wool's 'magical abililty' to draw moisture aware from the body, keeping people cool as they sleep.
He said: "Symptoms of the menopause are clearly having a profound effect on Louise and women around the UK, and as a result, they are fighting back against substandard slumber and are going to extreme measures to do so.
"Luckily women may not need to take extreme measures like putting pillows in the freezer or kicking their partners out of bed to stay cool at night. The answer could be with something as simple as wool bedding and sleepwear due to wool's temperature regulating properties."
Picture via Woolroom.