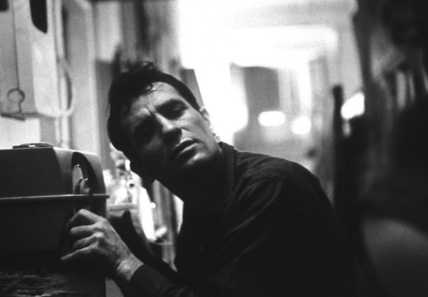 A Centennial Celebration in Words and Music featuring Dr Simon Warner
Kerouac Lives! brings together Dr Simon Warner from the School of Music, a specialist on the Beat Generation and popular music, acclaimed poet and spoken word performer Heath Common, and some of Kerouac's most revered writing along with eight new songs responding to his tumultuous life and tragically early death.
The specially composed score, with lyrics by Heath Common and music by John Hardie, will blend multiple styles – from rock and soul to jazz – in a commentary on Kerouac's rise from provincial New England to global fame as the writer of novels, essays, travelogues and poetry only to meet an alcoholic end in 1969 at a mere 47.
An exciting addition to the evening will be a first-ever public screening of a 10-minute short entitled American Joyride: 100 Lines for the Kerouac Centenary, a work by filmmaker Tom Knoff and Kurt Hemmer, a leading Beat historian.
The on-stage presentation will feature lively discussion between Warner and Common, telling the writer's rollercoaster story supported by key extracts from significant Kerouac works, including The Town and the City, Doctor Sax, Big Sur and, of course, from On the Road Itself.
The featured artists in Kerouac Lives! will include singers Jessika Mae and Patrick Wise and the part of Jack Kerouac will be performed by Malcolm Webb.
The first performance of Kerouac Lives! will be given at Wadsworth Community Centre, near Hebden Bridge, West Yorkshire, on Friday, February 4th at 7:45pm, with further dates to be announced.
Tickets and further information
Biographies
Simon Warner is a journalist, author and broadcaster with a special interest in the Beat Generation writers and their associations with popular music. His books include Text and Drugs and Rock'n'Roll: The Beats and Rock Culture (2013) and Kerouac. on Record: A Literary Soundtrack (2018), both published by Bloomsbury. He was a live reviewer for the Guardian in the 1990s and is the founding editor of the web newsletter Rock and the Beat Generation. For more than 20 years, he taught Popular Music Studies at the University of Leeds and remains a Visiting Research Fellow in the School of Music. He produced live events – Howl for Now (2005), Still Howling (2015) and Kerouac on Screen (2019) – and was part of the launch team of Louder Than Words, The Festival of Popular Music Writing in Manchester in 2013.
Heath Common is a songwriter, poet and performance artist from Northern England. He began his musical/spoken word career performing in New York City with his mates who he had previously met in Britain: Robert Lockwood and Johnny Shines – the stepson and close friend, respectively, of the legendary blues musician Robert Johnson. He was subsequently involved with a diverse number of musicians ranging from the American guitarist John Fahey to the British indie act the Rhythm Sisters. Heath Common continues to work closely with surviving figures from the Beat era and he is a published poet.
John Hardie is a celebrated songwriter, session musician and record producer. Following a long and highly successful career working in many areas of the music industry, John now focuses his talents on composing alongside Heath Common in what the pair intriguingly describe as a series of musical 'cabarets'.