Congratulations to Dr Jasjit Singh, on his promotion to Associate Professor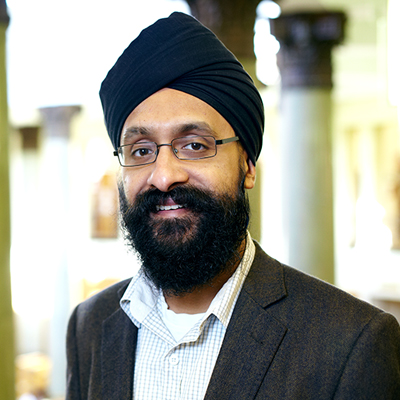 A tribute from Dr Caroline Starkey
Together with my colleagues in the School of PRHS, and in my role as the Co-Director of the Centre for Religion and Public Life, I am delighted to celebrate the promotion to Associate Professor, of Dr Jasjit Singh. Dr Singh is a highly valued member of our team in PRHS, and until his promotion, was a University Academic Fellow in Religious Transmission.
Dr Singh completed both his MA and PhD at the University of Leeds, in what was formerly the Department of Theology and Religious Studies (and has since become part of the School of PRHS). I first met Jas in a classroom, probably in 2008 or 2009, when we were students on an MA module on Women and Religion. I was interested in Buddhism, and Jas Sikhism, and during our weekly meetings we talked about our scholarly interests, non-traditional academic backgrounds, and the balancing of work and, eventually, our new young families. I was introduced to how supportive and collegial academic friendships can be, and have come to appreciate how important they are.
Jas and I are both part of a small cohort of 'home-grown' academics in our School, who studied part-time whilst working in alternative fields, but who opted for a career-change to academia. And how lucky we are, as a School, that Jas chose the study of religion, over his career in IT -although he still provides excellent IT advice! This concept of 'home-grown' is important for TRS at Leeds, as we have a long history of interest in religion close at hand, through our longstanding Community Religions Project, and our Centre for Religion and Public Life. This concern with the close and the local has gone on to shape Jas's career and research interests. His PhD, completed in 2012, focused on the transmission of religious identity amongst young British Sikhs, and after this, he began working at the University of Leeds as a Post-Doctoral Fellow (Arts Engaged/Leeds Humanities Research institute). In this role, he continued his research on religious and cultural transmission in a project funded by the AHRC looking particularly at South Asian arts.
In 2015, Jas was appointed as a University Academic Fellow in Religious and Cultural Transmission. One major focus of his work in this period, which was funded by CREST/ESRC and the UK Security Services, was on Sikh radicalisation. This project has brought Jas both national and international acclaim, with a large number of mentions in media and policy outlets (including invites to Downing Street), as well as academic publications. Internationally, his success has been prominent in Canada, and he has been invited across the pond on several occasions to give talks and discuss policy developments, both in the USA and in Canada. His engagement with the media has obviously shaped his children's interests, and both his son and his daughter have featured on BBC Newsround recently, most memorably championing anti-racism in football. Clearly the apple doesn't fall far from the tree!
At the forefront of Jas's work has always been a concern for community. His research and impact work, in particular, have focused on Sikh communities, and he has been active in raising awareness of the need to promote rigorous community engagement. This has been furthered inhis work with the Sikh Alliance Yorkshire - a local group aiming to give voice to Sikh concerns across the Yorkshire region. His community work also extends to the PRHS community, and Jas is an extremely popular teacher, with his modules on Religion and Media and Sikhism regularly getting rave reviews from students across the University.
Anyone who has met Jas, knows his interest/obsession with Star Wars. In the light of this, I would like to end with words immortalised by Darth Vader. All of us in PRHS know that with regards to Jas, 'the force is strong with this one'. Congratulations Dr Singh, we are very pleased to call you our colleague and friend!