Early Bird registration now open for the Contemporary Art in the Heritage Experience Conference 2019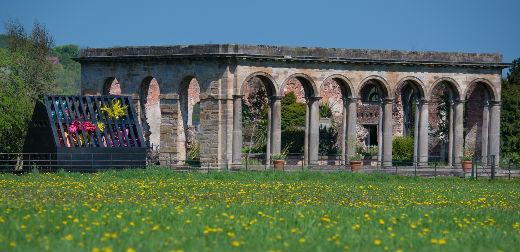 The programme for a two day international conference taking place at Newcastle University this July, as part of the Mapping Contemporary Art in the Heritage Experience project, has been announced.
Focused on the key themes of 'creation' and 'encounters', the conference provides a platform to discuss the character of contemporary art in heritage and the impact of such projects on their producers and audiences, sharing knowledge across the arts and heritage sector for those engaged in or wishing to develop this area of practice.
Mapping Contemporary Art in the Heritage Experience (MCAHE) is a collaborative research project between the School of Arts and Cultures at Newcastle University and the School of Fine Art, History of Art and Cultural Studies at the University of Leeds.
The three-year project is funded by the Arts and Humanities Research Council (AHRC) and delivered in collaboration with UK heritage partners The National Trust, English Heritage, Arts & Heritage, The Churches Conservation Trust, the Contemporary Visual Art Network and Arts Council England.
Nick Cass, Lecturer in Heritage and Contemporary Art at the University of Leeds, said:
"This has been an exciting project for the School of Fine Art, History of Art and Cultural Studies to be involved with.
"It fits perfectly within the context of the School's interdisciplinary engagement with fine art practice, and art gallery, museum and heritage Studies.
"Additionally, it has formed the core case study for an MA module that I teach called Intersecting Practices which introduces students to this form of contemporary art practice and audience engagement.
"The conference will be a great way to explore the impact of our commissions with all the project partners and a wider audience."
The conference programme features presentations from artists, curators, heritage organisations and academic researchers who submitted papers through an open call earlier this year, alongside panel discussions and keynote presentations from leading practitioners within the field.
It also includes an opportunity to visit a new exhibition Out of Place at Newcastle's Hatton Gallery and a new commission by Marcus Coates for National Trust Cherryburn, located just outside the city in rural Northumberland.
Keynote speakers will include John Orna-Ornstein, Director of Culture and Engagement at the National Trust, and Jenny Waldman, Director of 14-18 NOW.
Participants and attendees staying over in Newcastle on 30 July also have the option of attending a post-conference networking breakfast and workshop on 31 July.
Early Bird registration, with a range of delegate rates, has now opened and will run to 31 May.
Full details can be found here on the Mapping Contempory Art in the Heritage Experience website.
Image
Fiona Curran's work at Gibside, Your Sweetest Empire is to Please. Courtesy Colin Davison Photography.