Ancient Cypriot collection display launched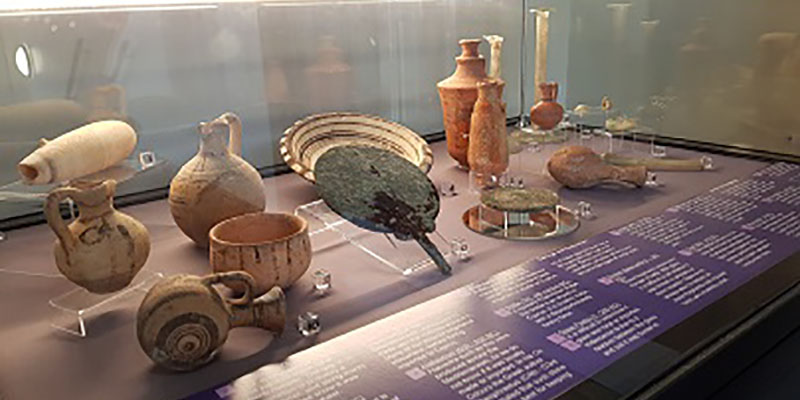 Classics at Leeds is pleased to announce the launch of a new student-led display of the University of Leeds ancient Cypriot collection.
The display, situated on the level 1 landing of the Michael Sadler Building, contains a collection of antiquities from Cyprus acquired by the University in the early 20th century, but never before properly displayed on campus. The collection was rescued from obscurity by the work of Classics postgraduate researcher Anna Reeve, and was catalogued, conserved, and exhibited at Leeds City Museum in autumn 2017.
In November 2017, two outstanding Classics undergraduate students were recruited with the support of funding from the School of Languages, Cultures and Societies and a grant from the Footsteps Fund in order to work with Anna Reeve to produce a more permanent display. The new display was installed in March 2018 and officially launched on Tuesday 12 June 2018 by Dr Emma Stafford, Anna Reeve and accompanied by a presentation from the student interns, Jessica Matthews and Hannah Webbe.
This display represents the culmination of wide-ranging research into ancient Cypriot material culture, the context of its production and original use, its subsequent journey through time and space to reach twenty-first century Leeds, and the best means of curating and presenting these examples of our Classical heritage. It's fantastic to have such a tangible link to the ancient Mediterranean world right here in the School!
The student interns found the project hugely rewarding and is likely to have a positive impact on their future job prospects, as well as paving the way for future undergraduate students to follow in their footsteps. Given the high level of student interest in this project, Classics at Leeds are considering running similar projects in future years. The display therefore showcases the wide range of experiences available to undergraduate students based in Classics at Leeds, and the opportunities for them to develop skills and talents for their future careers.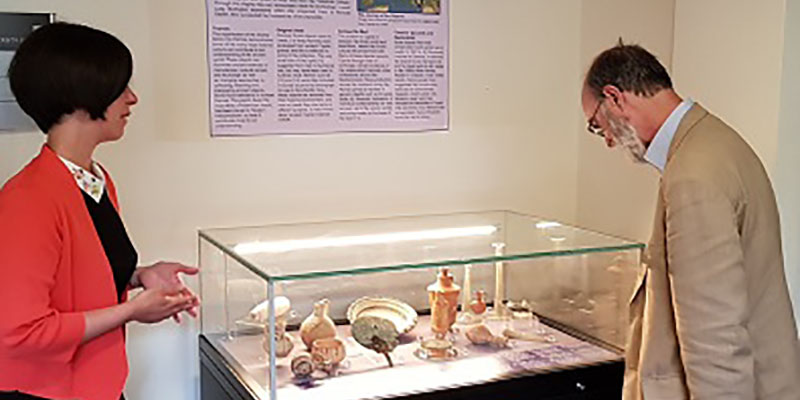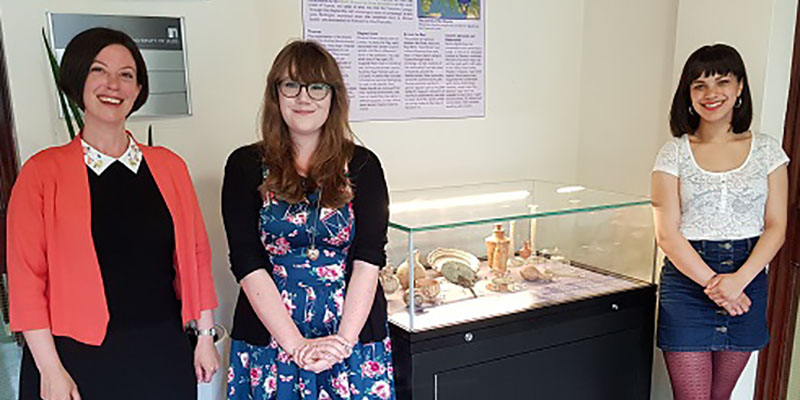 Hannah Webbe and Jessica Matthews, undergraduate student interns: "We were delighted to have been accepted onto the project, and were both excited to be working with real artifacts under the supervision of an established researcher in this area. Using Anna Reeve's MA dissertation, we researched the University of Leeds' Ancient Cypriot Collection and agreed on themes and areas of investigation for the display that were of interest to both of us. We were then both invited to handle the objects, which was a new experience and great opportunity for undergraduate students."
We came up with a display which we thought would be interesting for a wide audience, choosing a layout which would best demonstrate each object's attributes. Without funding from the Footsteps Fund, we would not have had the opportunity to do paid research work in a field similar to what we both want to pursue. This funding has given us both invaluable learning opportunities within the heritage sector, a very hard field to gain experience in otherwise. With both of us wanting to pursue postgraduate education, working under Anna has been a brilliant chance to see where this could lead.
The project has raised the profile of a valuable and under-used University of Leeds collection of antiquities, and is the first time this collection has been displayed as a coherent group. The display case is now appreciated by students, staff and visitors to the Michael Sadler Building. It provides a strong visual resource which contributes significantly to the environment and raises awareness of Classics at Leeds and the University's heritage.
For more details about the project, visit Anna Reeve's blog entry on the display.