Summer concert series celebrates School of Music alumni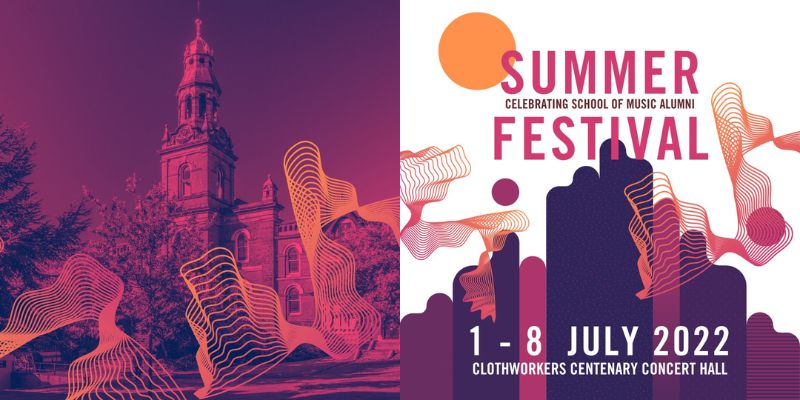 The University of Leeds International Concert Series returns to campus for the Summer Festival.
Taking place from Friday 1 July–Friday 8 July at the Clothworkers Centenary Concert Hall, the festival boasts a week of live music and events.
Its itinerary includes 13 concerts alongside industry sessions, panel events, a community 'Come and Sing', talks, and interviews, all featuring graduates from the School of Music.
Programme highlights
Sunday 3 July
Leeds Baroque and Community Chorus: Come & Sing! Vivaldi's Gloria.
All singers are welcome to attend this community music event. The performance and the rehearsals will be led by University of Leeds Associate Professor of Music, Clive McClelland, a specialist in choral music, and feature instrumentalists and soloists from Leeds Baroque.
Monday 4 July
Opera North Whistlestop Opera in collaboration with South Asian Arts UK – A Tale of Orpheus and Eurydice.
Performers from South Asian and Western musical traditions imagine a prequel to Monteverdi's opera. This performance is a 45-minute exploration of love, music, and hope, and it is a perfect introduction to this timeless myth and opera itself.
Tuesday 5 July
VRï.

VRï is a three-man ensemble from Wales who are shining a light on a vibrant folk tradition that harnesses the raw energy of the fiddle with the finesse of the violin, and the beauty of chamber music with the joy and hedonism of a pub session.
Wednesday 6 July
Rosanna Ter-Berg.

From Western Contemporary Classical to Brazilian folk music, Rosanne Ter-Berg presents an eclectic mix of music and a selection of handmade flutes from around the world. The multi-talented musician and theatrical performer has been described as 'outstanding' by the Telegraph and 'super-charged' by the Guardian.
Thursday 7 July
Dom Pusey and Ed Rice.

Dom Pusey, a saxophonist with a wealth of musical genres under his belt and Ed Rice, a pianist working primarily in jazz and related styles, encapsulates the marriage between the bossa nova movement in Brazil and North American jazz musicians in this programme.
Friday 8 July
Morgana Warren-Jones and Michael Davies.

Morgana Warren-Jones, recent winner of the RNCM's prestigious Frederic Cox Award for Singing competition leads this performance of romantic song repertoires with pianist Michael Davies.
Alongside the live events, attendees will also be able to join a wealth of sessions, talks and workshops on career development in the music and performance industries on Monday 4 July.
For the full line-up and to book your tickets, visit the Summer Festival 2022 website.