School of Music Graduate in Last Night of the Proms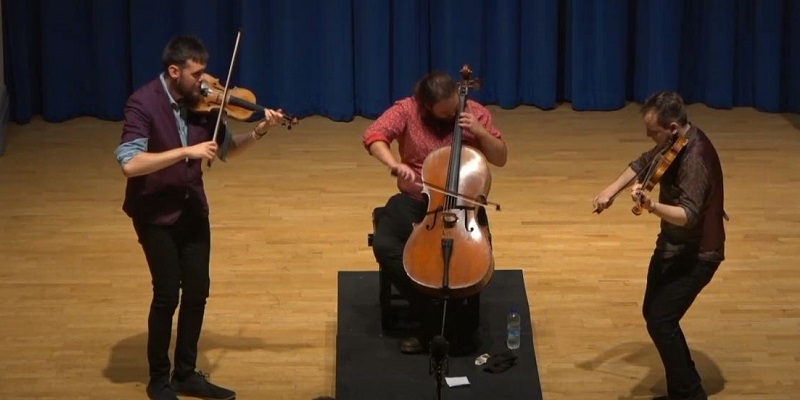 On 12 September, Patrick Rimes performed in the Last Night of the Proms with his folk trio VRï, alongside the BBC Symphony Orchestra and Nicola Benedetti.
The BBC Proms is the world's largest and most famous classical music festival. Taking place primarily at the Royal Albert Hall every Summer, every concert is broadcast live on BBC Radio 3 and many are televised.
The Last Night of the Proms is one of the most high-profile events in the classical music calendar and has hosted some of the world's most famous artists, this year featuring former BBC Young Musician of the Year winner Nicola Benedetti. The folk trio appeared as part of a video linkup from the coast in Tenby, Pembrokeshire, performing the Welsh song Ar Lan y Môr with soprano Beth Celyn.
Patrick graduated from the School of Music in 2014 and conducted LUUMS Symphony Orchestra in his final year. After graduating Patrick started the trio VRï with fellow violinist Aneirin Jones and cellist Jordan Price Williams with the stated vision of blending Welsh folk music with other traditional musics from around Europe and maintaining the integrity and individuality of their fiddle styles within the ideals of a classical chamber ensemble.
In 2018 Patrick returned to the School of Music with the trio for an appearance in the University of Leeds International Concert Series.
Last Night of the Proms on BBC iPlayer (Patrick's performance is at 1 hour 21 minutes)
Patrick's Trio performing in the Concert Series at the University of Leeds (YouTube video)
VRï's website: https://www.vri.cymru/
Image: VRï play in the University of Leeds International Concert Series