Leeds Workshop: Contesting Medieval Masculinities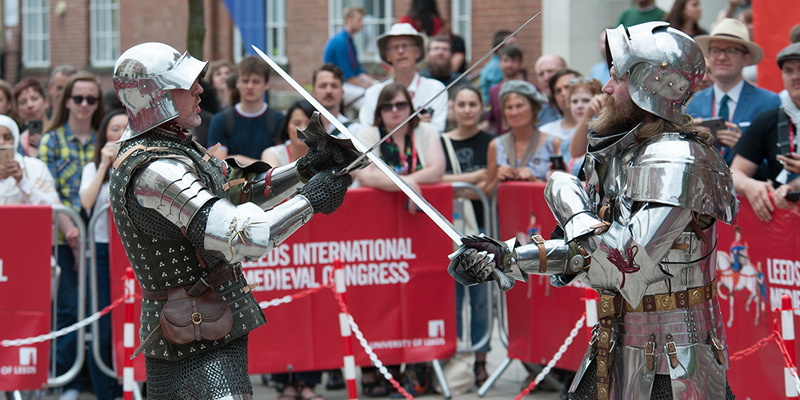 Date: Friday 17 May 2019, 9:30 – 16:30
Location: Baines Wing SR (3.06)
Cost: Free
The University of Leeds workshop 'Contesting Medieval Masculinities' will be held on 17 May 2019. The programme is finalised, and registration is currently open.
This workshop asks the key questions; what separates studying medieval men from studying medieval masculinities? How can the concept of masculinity benefit areas of medieval studies which have been traditionally more reluctant to consider gendered perspectives?
The workshop aims to encourage further use of masculinity as a lens of historical research by inviting contributions from both established gender scholars and those working with material that has so far received little attention from a gender perspective. Potential themes to explore included religious masculinities, homosociality, masculinity and violence, non-human masculinity, and more.
The Call for Papers is now closed.
The workshop will be held in Baines Wing SR 3.06, and will run from 9:30 to 16:30.
Programme
The workshop programme is finalised:
9:30-10:00. Reception/Coffee.
10:00-11:00. Sunny Harrison (Leeds), Alexander and Bucephalus: Dominance, Fealty, and Affective Mourning; Madeline Hernstrom-Hill (Leeds), Ritual Brotherhood and Masculinity in Byzantium.
11:00-12:00. Jack Litchfield (Leeds), Surgery and Homosociality in Malory; Olivia McGhie (Leeds), Peter Abelard's Remasculinisation, Perry Blankson (Leeds), Michael Psellos, Beards, and Masculinity.
12:00-13:00. Lunch Break.
13:00-14:30. Maroula Perisanidi (Leeds), Aelfric Bata's Colloquies, Violence & Masculinity; Mark McCabe (Huddersfield), The masculine experience on the Seventh Crusade in John of Joinville's Vie de saint Louis; Hannah Piercy (Durham), Stalking and Medieval Masculinities in Malory's Story of Pelleas and Ettarde.
14:30-14:45. Coffee Break.
14:45-15:30. Katherine Lewis (Huddersfield) and Natasha Hodgson (Nottingham Trent) on Crusading Masculinities.
15:30-16:30. Eleanor Grana (York), Men in Glass: The Construction of a Masculine Identity in the De Mauley Window, York Minster; Victoria Yuskaitis (Leeds), Male Anchorite-Priests: Medieval or Modern Masculinity?
Registration
The organisers are Sunny Harrison (IMS PGR Researcher), Jack Litchfield (IMS PGR Researcher), and Maroula Perisanidi (IMS Leverhulme Early Career Fellow). Any queries should be sent to Harrison at S.Harrison1@leeds.ac.uk.
Registration on Eventbrite is essential, although the workshop is free.
All are welcome!