Leeds workshop: contesting medieval masculinities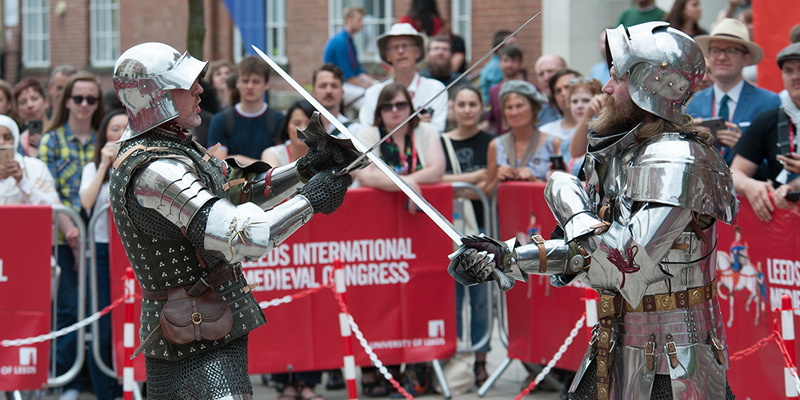 The call for papers is currently open for the University of Leeds workshop 'Contesting Medieval Masculinities', held on 17 May 2019. The deadline for submissions is 1 May 2019.
Call for Papers
What separates studying medieval men from studying medieval masculinities? How can the concept of masculinity benefit areas of medieval studies which have been traditionally more reluctant to consider gendered perspectives?
The workshop aims to encourage further use of masculinity as a lens of historical research by inviting contributions from both established gender scholars and those working with material that has so far received little attention from a gender perspective.
The Institute for Medieval Studies (IMS) workshop, titled 'Contesting Medieval Masculinities', will be held on 17 May 2019 at the University of Leeds.
Workshop Themes
Medieval men have been the focus of intense scholarly inquiry. From kings and knights to clerics and soldiers, their deeds have traditionally been considered the stuff of history. But while their actions and writings are scrutinised for their political, religious, and military value, relatively little is still being said about what makes a man. As Jacqueline Murray has pointed out, male experience tends to be universalised as human experience, and therefore men tend to be overlooked as subjects of sexed and gendered study.
Researchers from relevant areas of study who have not previously considered gender are especially encouraged to attend and reflect upon the extent to which masculinity does, or does not, impact their research topic.
Works-in-progress, case studies, source analyses, virtual posters, and 10-20 minute papers are all welcomed and will be discussed in a supportive environment with a broad range of scholars. This will result in a welcoming environment in which the lenses, theories, and methodologies associated with analysing masculinity can be applied in fresh and innovative ways. Masters students, postgraduate researchers and Early Career Researchers, as well as more established scholars, are welcome.
Potential themes include:
Fatherhood, boyhood, youth
Religious masculinities
Masculine spaces and places
Homosociality
Masculinity and violence
Masculinity and deviance
Elite and chivalric masculinities
Non-human masculinity
Masculinity and Medievalism/Toxic Medievalism
Participation
To participate, please email the organiser Sunny Harrison, IMS Teaching Fellow (s.harrison1@leeds.ac.uk). The participation deadline is 1 May 2019.