BA Fine Art student Abigail McGourlay announced as winner of a national isolation artwork competition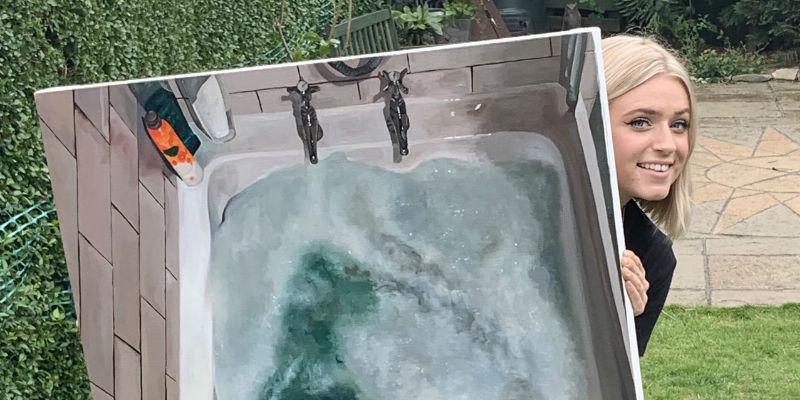 Second year fine art student Abigail McGourlay has been named as the winner of The Arts Society's national Isolation Artwork Competition for young artists during lockdown.
The winning artwork Brewing is a self-portrait which shows Abigail drinking a cup of tea in the bath: two things she says she has found comforting during lockdown.
Young artists entering the prize were asked to respond to the theme of isolation and produced new works that reflect their experience of lockdown.
Many of the works explore feelings of uncertainty, isolation and loneliness, as well as nature, connection and love. The artists focused on subject matter ranging from self-portrait to shielding loved ones, and materials ranging from acrylic to biro and pencil.
Abigail's winning oil painting was selected by public vote and is part of a virtual exhibition on The Arts Society's digital platform, The Arts Society Connected.
She was one of eight artists who had work shortlisted for the prize by a panel of judges including Rebecca Hossack, Charlie Waite and Dan Evans. Abigail had two of her works shortlisted, her second piece being another oil painting titled Thalia Dorme.
All eight artists' works feature in the digital exhibition which runs until the end of July. As winner of the prize, Abigail will have her winning artwork featured on The Arts Society's 2021 Membership Card which is used by 90,000 members, and also receives a £50 Cass Art voucher.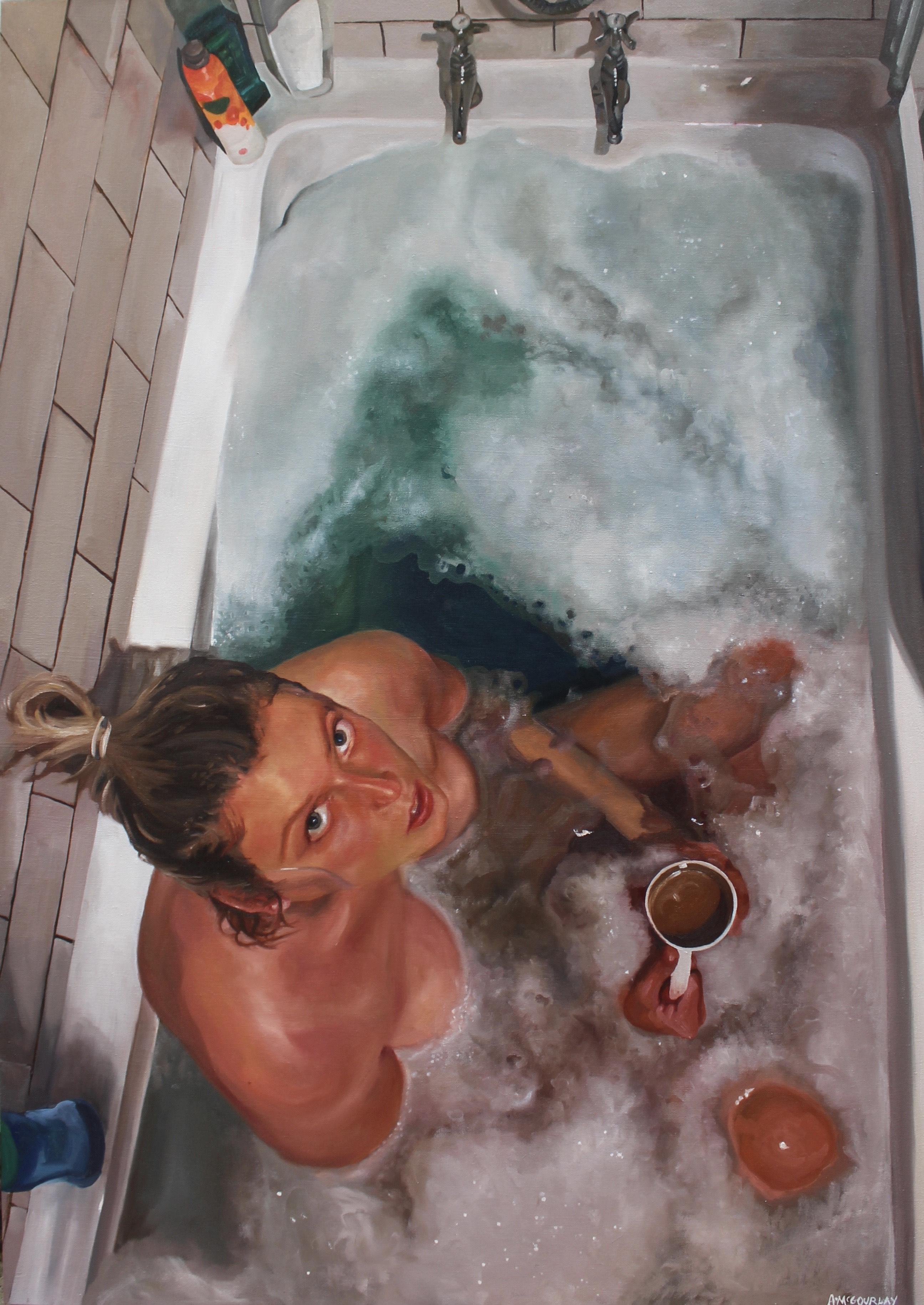 Abigail McGourlay, Brewing, 2020. Oil paint on canvas, 120 x 85cm.
Abigail was in the middle of finishing her second year of studying BA Fine Art in the School of Fine Art, History of Art and Cultural Studies at the University of Leeds when lockdown hit, and was also working as a swimming instructor. She has been furloughed from her job and has been continuing her studies from home.
Abigail said of Brewing and the experience of painting during lockdown:
"I've struggled with the situation we found ourselves in due to the pandemic, both mentally and physically. The uncertainty of lockdown put me in quite a stressful mind-set and I found it, at first, difficult to feel motivated. But it is due to lockdown that I have rediscovered my love of painting.
"I decided to take back some control that the quarantine had denied me and set goals for myself. I began to learn French, work on my fitness and flexibility and, most of all, focus on my painting projects.
"Despite the struggle, I feel that I am much more optimistic about my future now. I know I want to make changes to my life and I have been proving to myself that these changes are achievable over the past few months.
"I started sketching out this self-portrait at the beginning of my first year of university but, as I started to develop and focus on my sculptural practice in university, many of my painting projects were put on the back burner.
"It is through working on Brewing, and the time I've been given in lockdown, that I have rediscovered my love of the painting medium. The sense of utter consumption in a piece of work, like an almost hypnotic state, is how my dad used to describe me when I painted. It is in this piece that I feel I have once again experienced that relationship with painting.
"Brewing captures a real moment of comfort, in both my two favourite things — a warm bubble bath and a hot cup of tea — and in myself. I am never usually the subject of my own work and this piece has allowed me to explore my own features in ways I have never felt comfortable to do before."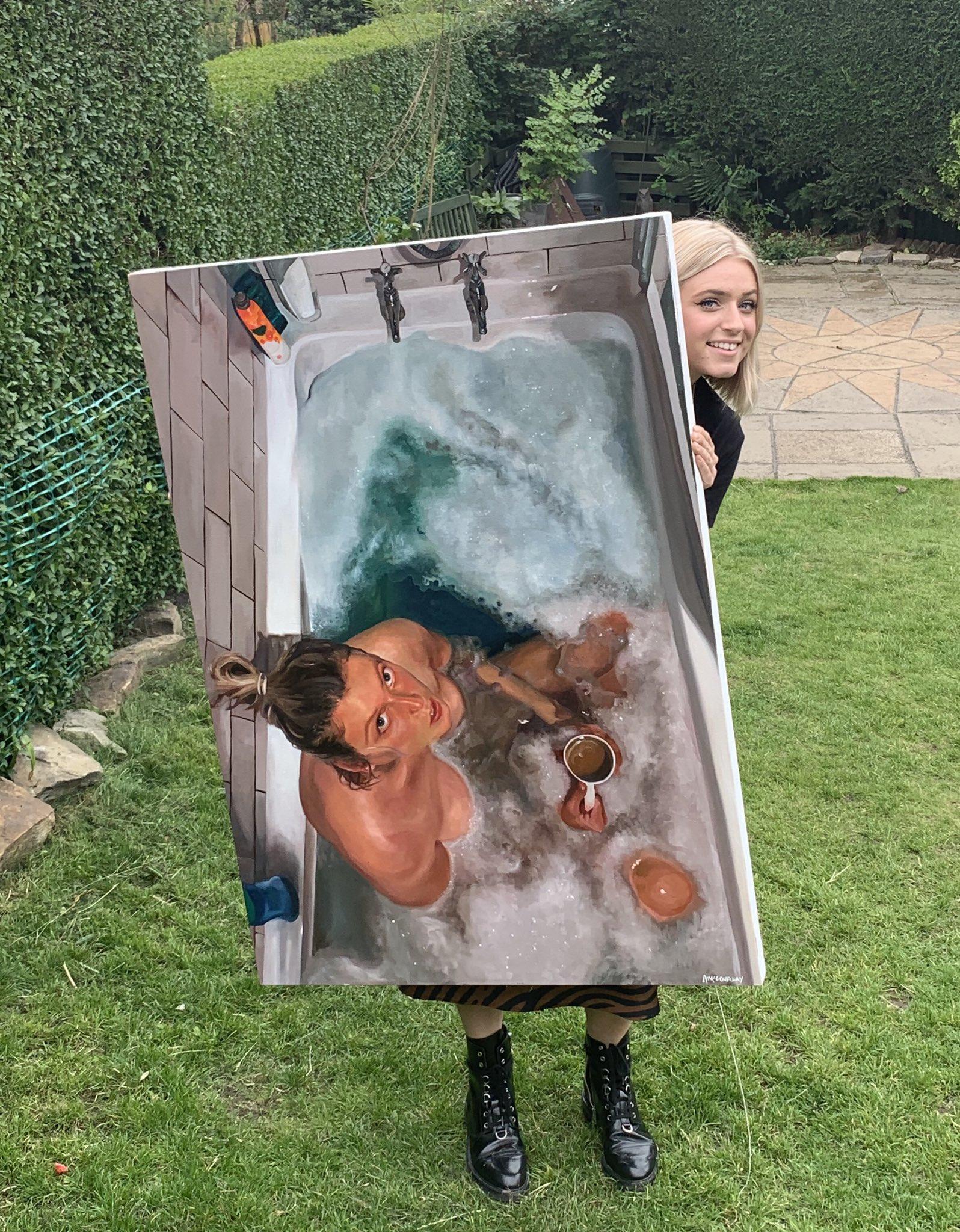 Artist Abigail McGourlay with her self-portrait, Brewing.
The Isolation Artwork Competition was set up by The Arts Society in support of young artists and students during lock down.
With over 90,000 members, The Arts Society is a leading arts education charity with a global network of over 380 local Societies. They bring people together through a shared curiosity for the arts and help to support young artists in the early stages of their career.
In April, The Arts Society launched The Arts Society Connected — a digital platform with the aim of help older members of the population stay connected, educated, entertained and informed during lockdown.
Florian Schweizer, Chief Executive of The Arts Society, said:
"The Arts Society is delighted to be able to offer a virtual exhibition and competition to support young artists during lockdown. We want to recreate and promote a sense of community, belonging and connection during a time of isolation and distancing.
"We believe the arts have the power to bring people together, and we will not let this virus stop communities from enjoying the arts with each other."
Dr Joanne Crawford, Head of the School of Fine Art, History of Art and Cultural Studies, said:
"Congratulations to Abigail on winning The Art Society's Isolation Artwork Competition. This is such an achievement, especially given the circumstances under which this amazing work was created.
"She is an artist of considerable talent and her obvious intelligence and resilience shine through this painting. She has managed to capture in one beautifully simple and private moment the complexities of the strange world we're all inhabiting in 2020.
"Abigail is testament to what can be achieved as an ambitious young female artist and we are certain that she will go from strength to strength. The School of Fine Art, History of Art and Cultural Studies is very much looking forward to welcoming her back, along with all our other incredible students, to the university in the autumn."
Abigail was interviewed on BBC Woman's Hour on 7 July talking about her self-portrait and her experience of lockdown. Listen to the interview here on BBC Sounds (starts approximately 36 minutes into the programme). She also appeared on BBC Look North.
Brewing and Thalia Dorme can be viewed here as part of a virtual exhibition, alongside the work of the seven other shortlisted artists.
You can find out more about Abigail McGourlay's art practice, before and during lockdown, here.
Images
Courtesy of Abigail McGourlay