Painting in lockdown — second year fine art student shortlisted for isolation artwork award
Two paintings by BA Fine Art student Abigail McGourlay have been shortlisted for The Arts Society's isolation artwork competition.
The Arts Society — an arts education charity with a global network of over 380 local groups — launched the competition in support of young artists and students during the covid-19 lockdown.
A panel of four judges chose ten artworks that best reflected artists' experiences of lockdown. Abigail McGourlay was one of eight artists to have her work selected and her two oil paintings are currently being showcased in a virtual exhibition.
One of Abigail's paintings — Brewing — is a self-portrait which sees her drinking a cup of tea in the bath: two things she has found comforting during lockdown.
Abigail has just finished her second year of the BA Fine Art course in the School of Fine Art, History of Art and Cultural Studies. She said of the competition and her art practice before and during lockdown:
"The Arts Society put out a call to previously shortlisted students from their Star Students Award competition to submit pieces of work responding to the theme of isolation.
"I submitted two pieces: Thalia Dorme which I had painted a few years prior in my A-level studies; and Brewing which I painted as a direct response to the competition.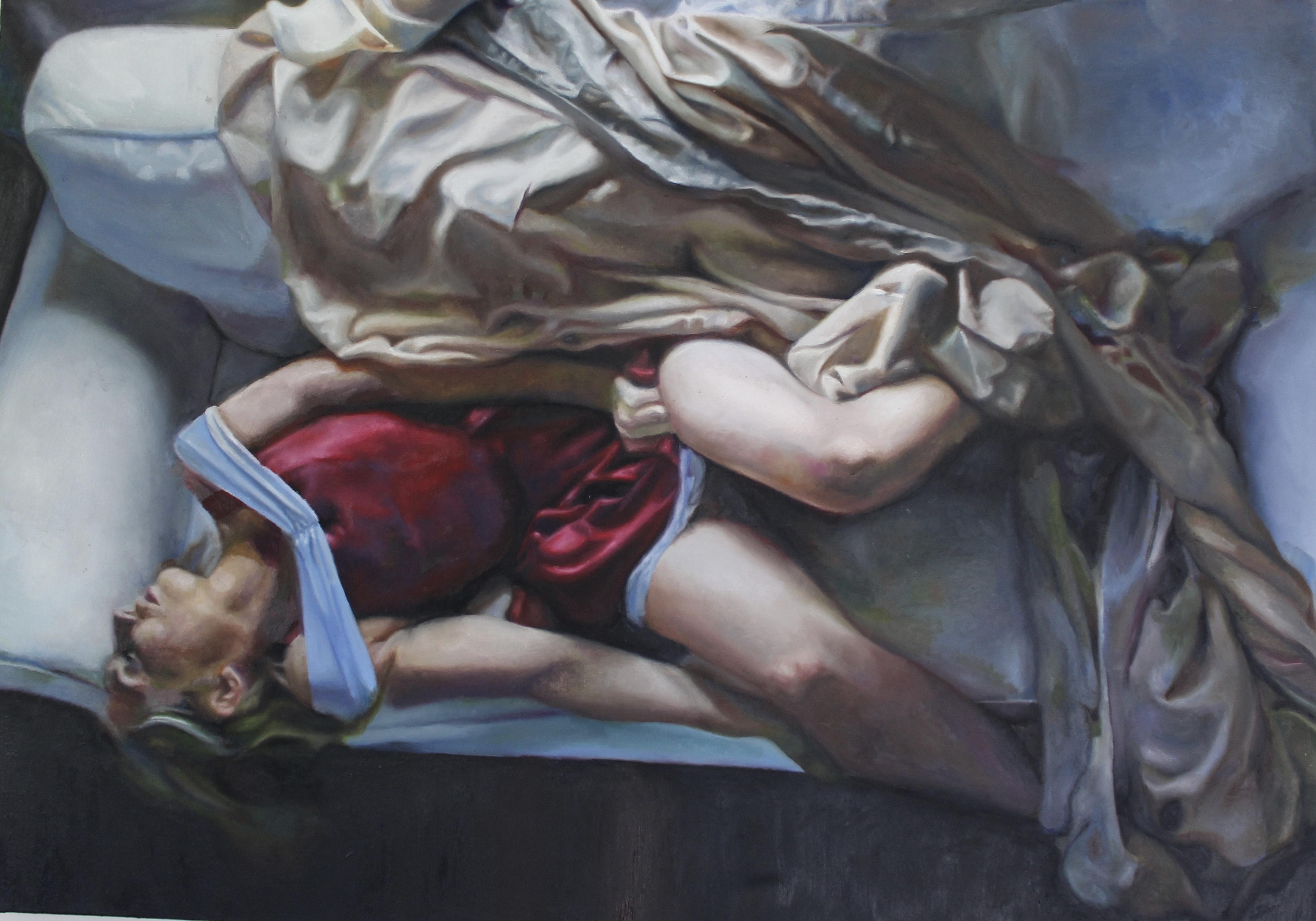 Abigail McGourlay, Thalia Dorme. Oil paint on canvas, 70 x 100cm.
"I was feeling quite unfocused and lacked motivation at the start of lockdown, so having a very clear-cut deadline set me a goal to work towards.
"I was delighted to hear that both of my pieces had made it onto the shortlist with seven other artists from across the UK. It can be quite difficult for any artists starting their career to gain levels of exposure. Opportunities like this are a really amazing way to get your hard work seen and appreciated, so I'm very grateful that my work has been chosen.
"It's a pleasure to be showcased alongside some really great pieces of work. Voting to choose a winner opened at the beginning of the month (closing on 30 June) and we'll find out the overall winner in July.
"As my practice at university is mainly sculptural and often incorporates a great deal of mess, trying to complete my second year from home has been a difficult process and has forced me to work in very different ways.
"During my time at university so far, I have focused on developing my sculptural practice and most of my painting projects were either left for my 'free time' or untouched. But with Brewing, I have regained that love for the painting medium again and I have been working on developing this over the past few months.
"Painting during lockdown has allowed me to continue creating fully formed pieces of work and to work and think creatively.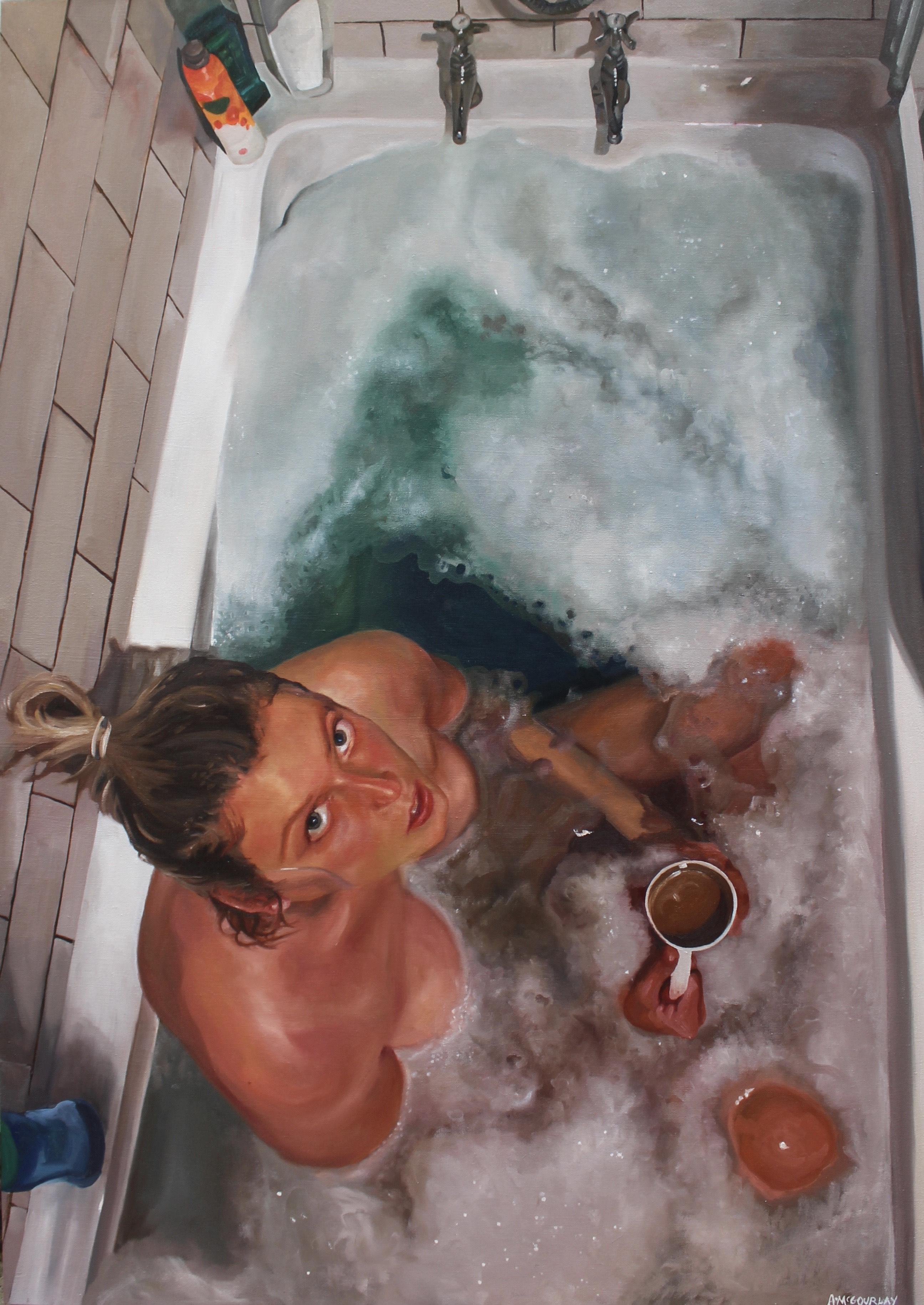 Abigail McGourlay, Brewing, 2020. Oil paint on canvas, 120 x 85cm.
"Brewing is a self-portrait that captures a moment of comfort in a warm bubble bath whilst drinking hot tea: a moment between myself and the viewer, and between myself and my own form. Being the subject of my own work is very unusual for me but — as my sculptural practice is highly concerned with my physical form and its capabilities and the empowerment I gain from that — it was something I felt drawn towards.
"Painting for the isolation artwork competition has forced me to become comfortable with the vulnerability that comes with this sort of 'exposure' and has allowed me to explore closely the details of my own body. In the painting, I played with my own developing style, using a mixture of fine details and loose bold strokes: overall it was a really enjoyable experience."
Abigail McGourlay's paintings can be seen here in a virtual exhibition on The Arts Society's website.
The competition has been opened up to a membership vote until 30 June and the overall winner will be announced on 7 July.
Feature image
Detail from Abigail McGourlay's Brewing, 2020.