BA History of Art alumna shortlisted for Association for Art History undergraduate dissertation prize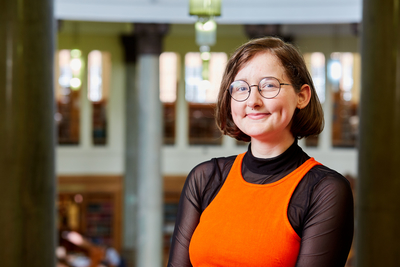 Layla Hillsden, a recent graduate from the School of Fine Art, History of Art and Cultural Studies, is one of four runners up for the 2018 Association for Art History Undergraduate Dissertation Prize.
This annual prize is in the form of two separate awards: one each for undergraduate and Masters level dissertations. They are assessed by the Association for Art History's Doctoral and Early Career Research (DECR) committee.
The winner of the Undergraduate Dissertation Prize for 2018 is Chloe Phillips, University of Edinburgh, for her essay Malaysia's Phantoms: Comparing Artistic Representations of National Identity, from the Merdeka Period to Present Day.
The subject of Layla Hillsden's shortlisted dissertation, written in the final year of her degree, was Avant-Garde and/or Kitsch: Reconsidering Dichotomies in Contemporary Art and Fashion Through Jeff Koons and Louis Vuitton's 'Masters' Collection.
Layla's dissertation primarily explores the relationship between contemporary art and fashion, taking the 2017 'Masters' collaboration between Louis Vuitton and Jeff Koons as a case study through which to examine intersections between the industries at their highest respective levels.
Layla challenges the dichotomous thinking surrounding both fashion and art, as well as high art and mass art in general, arguing that this mode of thought undermines the creativity of fashion in positing it as inferior to art and draws arbitrary divisions between two modes of creative production.
She contends that this line of thought is outdated in light of the fact that many contemporary artists create work which blurs lines between industries and styles, often deliberately conceding to the status quo in an attempt to highlight the commercialisation of the global art industry.
Layla also draws comparisons between the working practices of the art and fashion industries, exploring the nature of 'collaboration' within and between them. She concludes her dissertation by taking the work of Jeff Koons as an example of commodity-as-art/art-as-commodity, and considers what the 'Masters' collection can tell us about art and fashion in the 21st century.
Layla Hillsden said:
"I'm thrilled to have been shortlisted for the Undergraduate Dissertation Prize. Throughout my degree I felt like my tutors really encouraged me to pursue topics that interested me and to find enjoyment in the writing process ― that gave me a lot of confidence when it the time came to start my dissertation.
"I'm really grateful to the School of Fine Art, History of Art and Cultural Studies and especially to my supervisor, Dr Nick Cass, who was so enthusiastic and supportive.
"It's amazing to receive recognition for my work at a national level. I love that the Prize highlights the diverse range of topics that art history undergraduates are working on across the UK."
Dr Nick Cass, Lecturer in Heritage and Contemporary Art, said:
"Layla's engagement with Jeff Koons' work was fascinating. His collaboration with Louis Vuitton raises so many questions; I thoroughly enjoyed our dissertation tutorials during which we'd both look at these handbags with increasing fascination.
"It's really great that Layla's work has received this recognition ― she thoroughly deserves it."
Further information about the Association for Art History Dissertation Prize, including details of all winners and runners up for 2018, can be found here.