Decolonising the Museum: The Curation of Indigenous Contemporary Art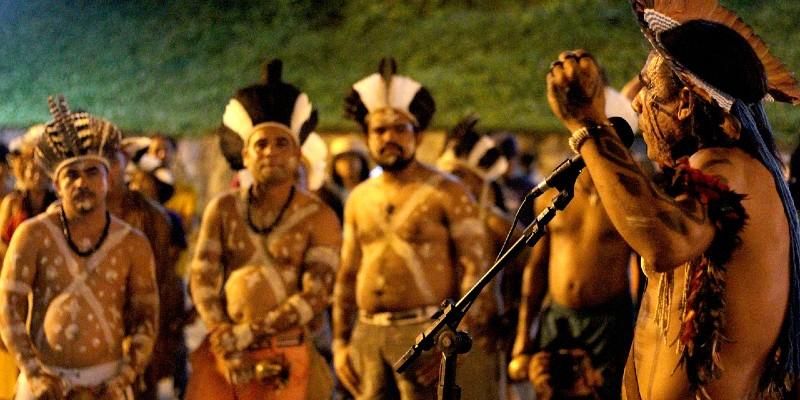 Date: Wednesday 12 May 2021, 16:00 – 17:15
Location: Off-campus
Cost: Free
Our speaker this week is Professor Thea Pitman, Professor of Latin American Studies, School of Languages, Cultures and Societies.
In this series of events, the Centre for Critical Studies in Museums, Galleries and Heritage presents research going on across the University of Leeds, from questions of mass extinction and climate crisis, practices of decolonization to digital literacy for museum professionals.
Professor Thea Pitman will speak about her current research which focuses on a 2018 project to create 'Indigenous electronic art' in Northeastern Brazil, run by the NGO Thydêwá, and more specifically on the subsequent exhibition held at the Modern Art Museum in Salvador da Bahia.
Thea is particularly interested in the ways that the Indigenous partners in the project exercised curatorial agency during their time at the museum to effect a temporary decolonisation of the gallery space. Thea's interpretation of Indigenous curatorial practice is informed by an exploration of the kinds of 'decolonizing methodologies' (Smith) that were in evidence during the exhibition and comparison with similar moves to promote Indigenous curatorship that have taken place in Canada and Aotearoa/New Zealand in recent years.
The talk will also feature the screening of the short research video that most effectively illustrates these points.
How to book
The event will be held on Zoom.
Please book your place here via Eventbrite.
Free, all welcome.
More information
For further details about the CCSMGH Live Projects Series, email Helen Graham.
Image
Tawanã Kariri-Xocó – speech at inauguration. Photo Dayanne Pereira.