Deep Listening: The Story of Pauline Oliveros
Date: Tuesday 31 October 2023, 17:30 – 20:30
Location: Clothworkers Centenary Concert Hall, Music
Cost: Free (registration required)
CePRA and the Centre for Audio Visual Experimentation (CAVE) present a screening of a documentary on experimental composer Pauline Oliveros, followed by a Q&A with the director, Daniel Weintraub.
Deep Listening: The Story of Pauline Oliveros tells the story of the iconic composer, performer, teacher, philosopher, technological innovator and humanitarian, Pauline Oliveros. She was one of the world's original electronic musicians, the only female amongst notable post-war American composers, a master accordion player, a teacher and mentor to musicians, a gateway to music and sound for non-musicians and a technical innovator who helped develop everything from tools that allow musicians to play together while in different countries to software that enables those with severe disabilities to create beautiful music.
On the vanguard of contemporary American music for six decades, her story illuminates the pathway to how we got where we are and where the future will take us in the worlds of music, the philosophy of sound, and the art of listening.
The screening will be followed by a conversation with the director, Daniel Weintraub, interviewed by Annie Jamieson (Curator of Sound Technologies at the National Science and Media Museum).
Full details can be found on the Centre for Practice-Led Research in the Arts (CePRA) website.
Booking information
The event is free but please register online to ensure a seat.
Book your place via TicketBud.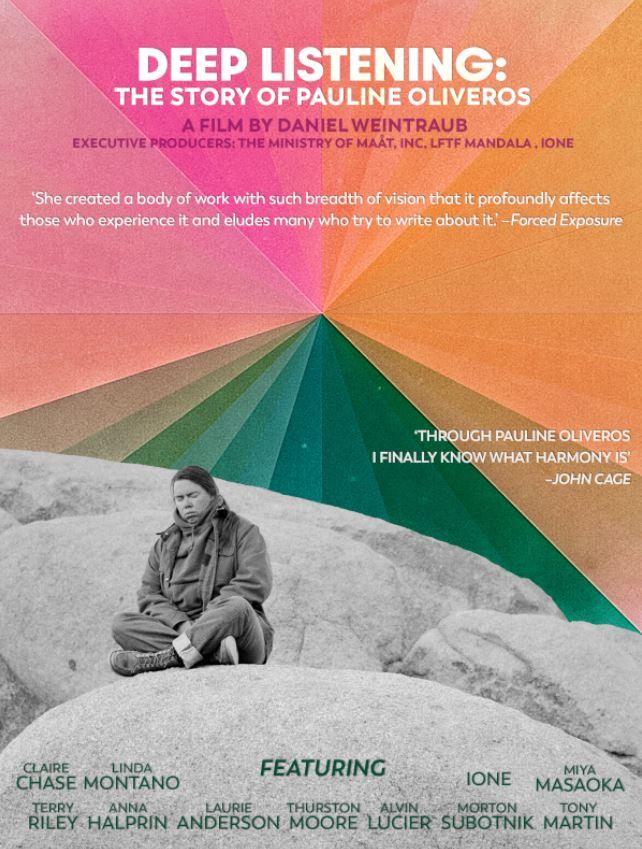 Image
Detail from 'Deep Listening: The Story of Pauline Oliveros' film poster.