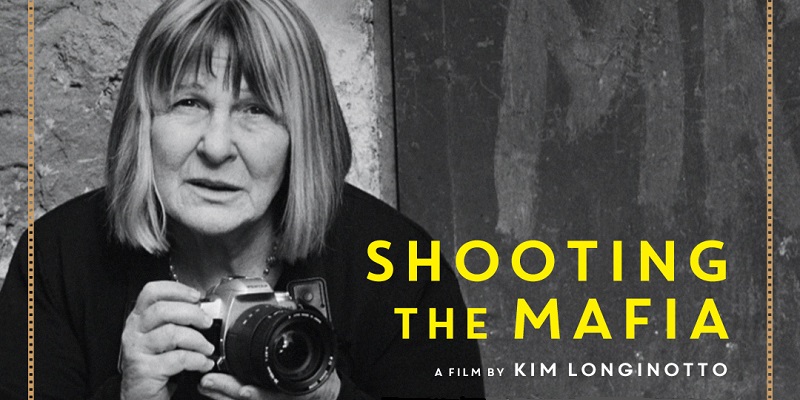 Date: Tuesday 21 January 2020, 18:15 –
Location: Off-campus
Cost: See website for details
LivItaly and Italian at Leeds join with Hyde Park Picture House, the Birds' Eye View charity and Leeds Cineforum to screen this powerful documentary.
Please note this event will take place at the Hyde Park Picture House and tickets can be purchased from their website.
Synopsis:
Sicilian Letizia Battaglia began a lifelong battle with the Mafia when she first dared to point her camera at a brutally slain victim. A woman whose passions led her to ditch traditional family life and become a photojournalist, she found herself on the front lines during one of the bloodiest chapters in Italy's recent history. She fearlessly and artfully captured everyday Sicilian life – from weddings and funerals to the grisly murders of ordinary citizens – to tell the narrative of the community she loved forced into silence by the Cosa Nostra.
Shooting the Mafia weaves together Battaglia's striking black-and-white photographs, rare archival footage, classic Italian films, and the now 84-year-old's own memories, to paint a portrait of a remarkable woman whose bravery and defiance helped expose the Mafia's brutal crimes.
The film is followed by Q and A session opened by Mia Bays, Director of Birds Eye View, and Gigliola Sulis, Associate Professor of Italian at the University of Leeds, for a discussion about from the themes raised by the film, from the history of Sicilian mafia to the role of women in photo-journalism and more broadly in society.
The screening is presented by charity Birds' Eye View's Reclaim The Frame initiative: A mission to bring ever-greater audiences to films by women to widen and enrich cinema's perspective of the world, backed by the British Film Institute's Audience Fund. Join the #ReclaimTheFrame mission to receive free cinema tickets, discount codes and other film goodies.
Director:
Kim Longinotto's many award-winning films include Divorce Iranian Style; Gaea Girls; Runaway; The Day I Will Never Forget; Sisters in Law; Hold Me Tight, Let Me Go; Rough Aunties; Pink Saris; Salma; and Love Is All. Her documentary Dreamcatcher opened at the 2015 Sundance Film Festival, where it earned Longinotto the World Cinema Documentary Directing Award.
Director's statement:
"Letizia Battaglia is a gifted photographer and an irreverent woman. In Shooting the Mafia, we explore the story of this remarkable Sicilian, who has defied male authority, her society's culture and the all-pervasive Mafia, her entire life. Letizia not only challenged and infuriated the Mafia by bravely photographing their crimes, but was also outspoken at a time and in a place where this was unheard of.
We were determined to make a film that could do her justice. Working with our wonderful editor, Ollie Huddleston, we have woven together archive, classic Italian films, Letizia's home movies, on-the-spot TV news, and our own filmed footage to take the audience on a journey through the life of this passionate woman. Letizia's photographs are astonishingly graphic but they also, strangely, have a kind of heartstopping beauty. You can sense the resolve of the person behind the lens, a kind of clear-eyed reckoning of unpunished crimes. She is standing up to the bullies and showing great courage to reveal their cowardice. She is my hero for doing that." – Kim Longinotto
Reviews:
"Wonderful film. An intimate portrait of Letizia Battaglia, an exceptional woman, whose photography of the chaos sown by the Mafia helped bring change to Sicily." Los Angeles Times
"A compelling and moving documentary" Screen International
"Longinotto's tribute to Battaglia is engaging and inspiring" The Playlist
"Some of the most arresting documentary work of the past few decades." Little White Lies
"A lavish in-depth love letter to Italian photographer and activist Letizia Battaglia... She is always charming and inspirational, living as a strong, independent woman in a crushing patriarchy." Film Threat
"Shooting the Mafia shows that one's bravery–even if they're only doing their job – can make a difference." Solzy At The Movies