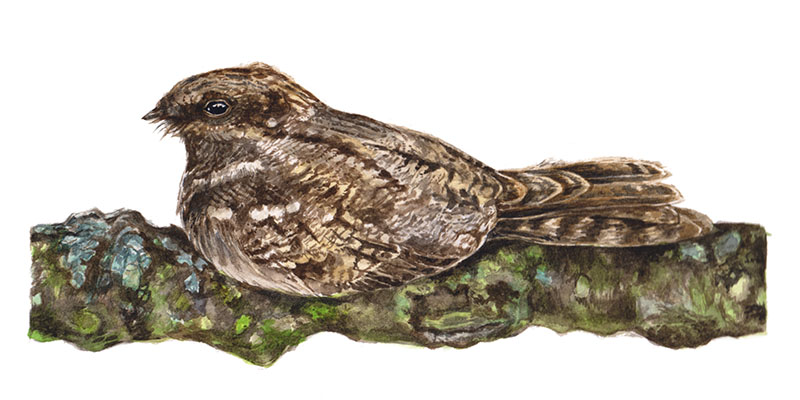 Date: Monday 1 June 2020
Location: English
Interval: Every day
Until: Saturday 13 June 2020
Cost: Free
Natural England, Leeds Library and the University of Leeds present a showcase of creative work inspired by the secret life of a scarcely-seen nocturnal bird.
The event launches online on 1 June, with a special creative download, available from the Land Lines Research Project website.
The following week, new works will be released each evening as the Nightjar awakens, concluding on 13 June.
The Nightjar Nights series features exciting new works from writers Sara Hudston, Anita Roy, and David Higgins, with supporting materials from Natural England.
Sara Hudston will also be sharing a multimedia piece, whilst Anita Roy will be discussing the fascinating 'Nightjar Creation Myth' alongside her research.
We hope that Nightjar Nights will offer a new way of 'seeing the unseen', and shed some light on one of our more mysterious native bird species.
There will also be an exclusive video reading from naturalist, author and critically acclaimed birder, Stephen Moss, plus feature participatory artwork from Douglas Black and illustrations by Katie Marland.
Get involved
Members of the public are invited to share their photos, stories, memories, writing and drawings about the Nightjar via social media.
Visit twitter.com/landlinesnature or facebook.com/landlinesnature to find out more.
Nature revealed
Nightjar Nights forms part of a wider creative programme by the Land Lines research team, called Nature Revealed: Tracks, Traces and Trails.
The project uses artistic interventions in nature reserves to explore environmental themes of climate, migration, nocturnal and subterranean life - working with children and older adult participant groups whilst commissioning new writing and artworks.
It has been really fantastic to adapt what would have been a small event and allow it to migrate to a world audience online.
The project will be run until October 2020. Find out more at the Land Lines Project website.
Image credit: Katie Marland