A Single Thread - Tracy Chevalier on Louisa Pesel
Date: Tuesday 1 October 2019, 17:30 – 19:15
Location: Art Gallery, The Stanley and Audrey Burton
Cost: £5.00
Best-selling author Tracy Chevalier discusses her new novel at The Stanley & Audrey Burton Gallery this October.
Tracy Chevalier is the author of ten novels, including Girl with a Pearl Earring, Remarkable Creatures and At the Edge of the Orchard. She is an international bestseller who has sold over six million copies and won the Barnes and Noble Discover Award.
When researching A Single Thread, Chevalier found inspiration in the University of Leeds International Textile Collection. The archive of Bradford-born embroiderer and educator Louisa Pesel played a particularly important role.
Pesel, born in 1870, studied design at the Royal College of Art before being appointed Designer at the Royal Hellenic School of Needlework and Lace in Athens. She was a prolific traveller and amassed an extensive collection of more than 500 embroidered items from the Mediterranean and beyond. This collection, alongside her personal samples, notebooks and photographs, are housed in the University of Leeds Special Collections.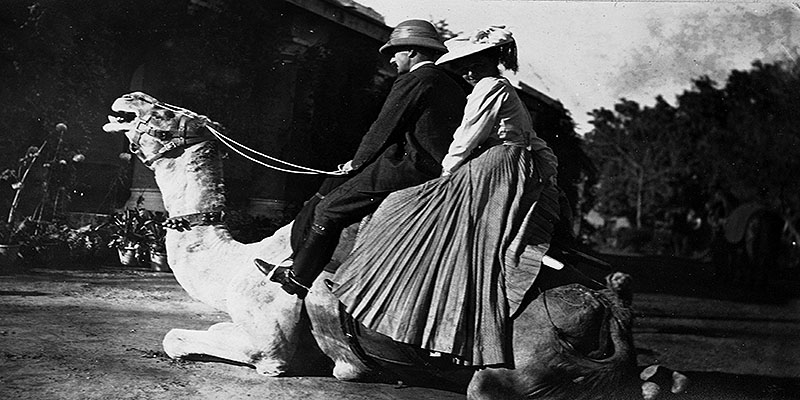 Louisa Pesel on a camel at the Khyber Pass in India, 1906. Image credit: Special Collections, University of Leeds.
Louisa features as a character in A Single Thread, alongside central character Violet Speedwell. Violet is a "surplus woman" still keenly feeling the losses of the First World War. Chevalier's novel follows Violet to Winchester where she falls in with the broderers, a disparate group of women charged with embroidering kneelers for the Cathedral.
Dr Stella Butler, University Librarian and Keeper of the Brotherton Collection, said: "It is fantastic to see one of our collections brought to life in such a vivid way by Tracy Chevalier. We look forward to welcoming Tracy to Leeds to hear more about her research into the International Textile Collection."
A complementary display of the International Textile Collection material which inspired Tracy Chevalier will be available for viewing in The Stanley & Audrey Burton Gallery on 1 October as part of the event.
A Single Thread will also be available to purchase at the event.
Tickets cost £5.00 and are available via Eventbrite.