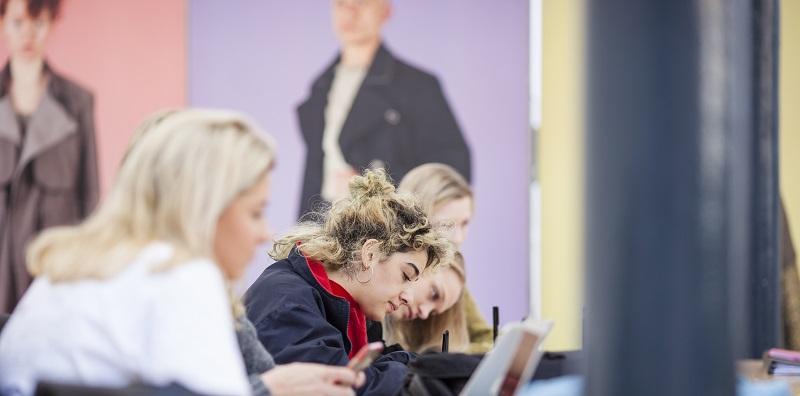 Celebrating achievement
We offer many opportunities to celebrate student work and creativity. Many courses hold regular showcases including public viewings and our teaching staff organise for students to showcase their work at major exhibitions such as Graduate Fashion Week and New Designers. The celebrations culminate in the annual degree show which is an opportunity for graduating students to showcase their work for viewing by the School and University community, family and friends, industry professionals and the wider public.
Global community
The School of Design has students from all around the world which creates a diverse community and gives everybody the chance to learn from other cultures. The University of Leeds offers excellent support for international students including financial advice, immigration guidance and wellbeing support. You can become an active part of the University's global community through a range of activities. The Global Cafe provides an opportunity to meet students from all over the world, you can also develop your language skills or help others to learn your native language through our language centre or you could choose to become an Intercultural ambassador, helping to run projects which promote cultural awareness and intercultural communication on campus.
Active student society
The School of Design Society is run by students, for students and all are welcome to join, they organise regular trips and social events throughout the year from workshops and talks from artists, to visits to design studios. There is also an annual trip overseas and support for finding placements and internships.
Supportive study environment
You will be fully supported throughout your degree by your teaching staff as well as our support staff in the School office. You will have your own dedicated personal tutor within the School who will be an academic member of staff who can provide support with your academic, personal and professional development. They will be a key point of contact throughout your time studying with us and you will have 1:1 meetings with them, you can also contact them if you have any issues or concerns.
You can also support your fellow students by volunteering to represent them at course or school level, acting as a student representative or sitting on the student-staff forum. We take feedback from students seriously and are always looking for ways to improve your experience of studying with the School of Design.
Lifelong Learning Centre
<iframe width="1280" height="720" src="https://www.youtube.com/embed/xinQLfWq-kY?list=PLPooB6Qr1ayF8gOA4XIpGAwXUYjNaYXfd" title="YouTube video player" frameborder="0" allow="accelerometer; autoplay; clipboard-write; encrypted-media; gyroscope; picture-in-picture" allowfullscreen></iframe>
The Lifelong Learning Centre provides support for mature and part-time learners across the University, including advice on how to apply to university and support throughout your studies.