Shifting Borders: A Journey to the Centre of our World(s)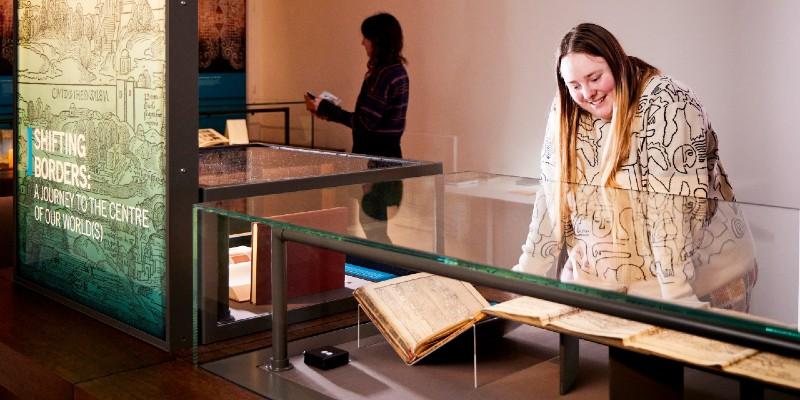 Date: Tuesday 24 January 2023
Location: Treasures of the Brotherton
Interval: Every day
Until: Thursday 21 December 2023
Cost: Free and open to the public; no need to book.
Take a journey across borders and travel from Leeds to Venice and Jerusalem via the Sun and Moon, in this new exhibition at the Treasures of the Brotherton gallery.
This is an exhibition for the curious explorer! Delve into the world of maps from a pioneering travel guide printed in the fifteenth century to contemporary artists' books.
Maps are an integral part of our everyday lives — we use Google Maps to find a shop, SatNav to guide our car journeys, and Ordnance Survey maps to help plan our next adventure in the mountains. Historically, they have also been a way for us to understand and visualise our world and beyond.
Guest curated by Chris Taylor — artist and Professor of Fine Art Practice in the School of Fine Art, History of Art and Cultural Studies — this exhibition takes a deep dive into maps, guidebooks and more to explore how these documents can capture notions of place, home and nationhood, as well as being a way to express hope for a better life.
On display will be artefacts belonging to or created by explorers, spies, scientists, mapmakers, and authors. Alongside historical objects, the exhibition draws on the University's significant Artists' Books Collection. The books on display show how contemporary artists adapt the formats and structure of the map, or experiences of journeys taken, to capture current concerns regarding migration, place and history.
An exhibition preview event will take place on Tuesday 24 January, 5.30 to 7.30pm. Book here.
Opening times
Tuesday to Saturday, 10am–5pm.
Image
Shifting Borders: A Journey to the Centre of our World(s) exhibition in the Treasures of the Brotherton Gallery. Image courtesy of Leeds University Library Galleries.