Research project
'Irregular' Art Schools: Methods for Supporting the Professional Development of Learning Disabled Artists
Start date: 1 February 2021
End date: 31 July 2023
Funder: AHRC
Primary investigator: Dr Jade French
External co-investigators: Dr Katie Graham
Value
£199,701
Partners and collaborators
Pyramid, Assembly House, Leeds City Council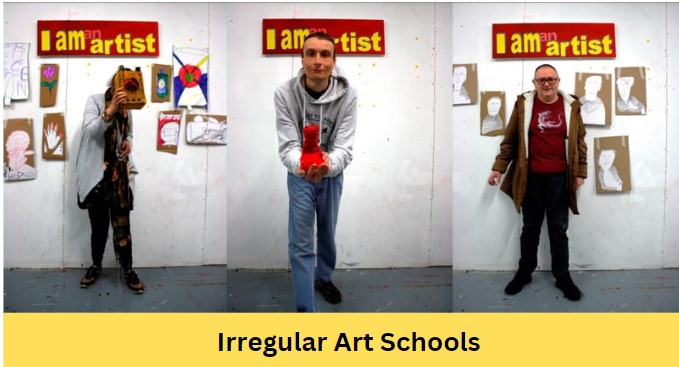 Description
1. Exhibition: The Irregular Art School 3/2/23 – 24/2/23
The Irregular Art School is an art exhibition exploring inclusive artist development, emerging from a research project taking place in the School of Fine Art, History of Art and Cultural Studies. Over the past year a group of artists from Pyramid, students, care professionals and academics with and without learning disabilities have been working together to explore new methods and collaborations to better support the professional development of learning disabled artists in the Leeds City Region.
The exhibition, curated by undergraduate Fine Art Student Shanelle Bateman, showcases a selection of the artworks created during the research. The exhibition considers the barriers that learning disabled and/or neurodivergent artists at Pyramid have faced when pursuing being an artist and showcases work created in response, as well as pieces which are outcomes of new and experimental collaborations. The exhibition is open from Friday 3rd February 2023 at 3pm and closes 24th February 2023
2. Want to join an Irregular Art School? Visit our 100% Unofficial Open Day 8
/2/23 & 10//223
I you'd like to join our Irregular Art School, you can book a place on our Open Day and meet the Irregular Art School team by joining us and you can be enrolled into the Irregular Art School, meet the exhibiting artists, and learn more about the research:
Wednesday 8th February: 11am-12pm or 1.30pm – 2.30pm

Friday 10th February: 11am-12pm or 1.30pm – 2.30pm
Book a place
Visit our EventBrite page and book a free place
Over the past 20 years the inclusive arts have grown considerably.
There has been a proliferation of specialist organisations and high-profile exhibitions; raising the profile of learning disabled people as artists, performers and curators. However, despite this momentum and reforms in social care policy, there remain few instances of learning disabled people being recognised as professional artists in their own right.
This disparity is attributed to two different, yet inextricably connected domains: intersection of social care with arts policy and funding.
Irregular Art Schools is co-developing and piloting different professional development opportunities with learning disabled artists in the Leeds City Region, testing how existing structures such as artist-led spaces, universities, publishing, and social care can better serve learning disabled individuals.
Via participatory action-research with learning disabled artists from partner inclusive arts studio Pyramid, this project will examine how contexts such as artist-led spaces, universities and publishing might be extended or diversified to better serve them.
Phase 1 will see the redevelopment of social care support structures to best facilitate their inclusion.
In phase 2, Pyramid artists will co-design an artist-led model of development with Assembly House, and in turn illuminate how artist-led spaces might address sector issues of access.
During phase 3, the project will facilitate collaborative creative interventions between Pyramid artists and fine art students in University of Leeds' School of Fine Art, History of Art and Cultural Studies. This will examine opportunities for learning disabled artists within the current structures of a vibrant art school, while assessing how ideas of artistic quality, criticality and expertise are understood across these contexts and what support mechanisms are required.

Impact
This project will facilitate social policy workshops, bringing together inclusive artists with social care practitioners at Leeds City Council to interrogate critical concepts underpinning social care policy, facilitating knowledge exchange.

To inclusively publish a special edition journal on inclusive art, experimenting with approaches to writing and peer reviewing to include learning disabled artists.

Leading inclusive art 'think-tanks', connecting facilitators to troubleshoot key sector issues in the UK, alongside

An international inclusive arts knowledge exchange. These combined approaches will allow us to 'crack open' persistent questions of inclusive artistic practice in ways which advance academic debates, and then return back to challenge and change the structures which are currently preventing learning disabled artists from flourishing.
Publications and outputs
https://spotlight.leeds.ac.uk/world-changers/irregular-art-school/

Project website
https://spotlight.leeds.ac.uk/world-changers/irregular-art-school/