Skill Up in Theatre and Performance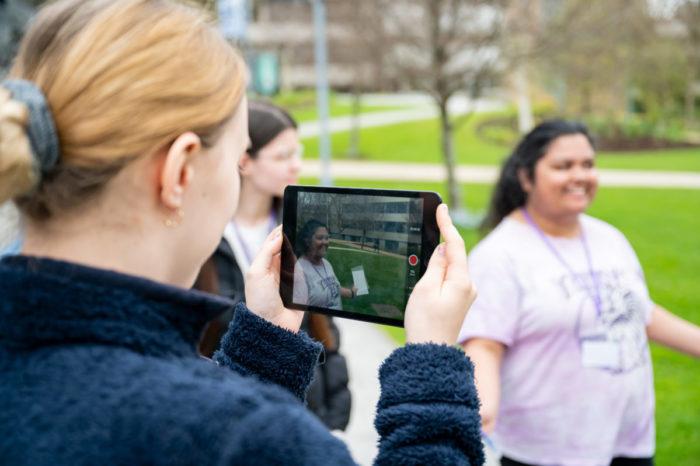 Date: Tuesday 4 April 2023
Location: Stage@Leeds
Interval: Every day
Until: Wednesday 5 April 2023
Cost: Free
A unique programme for Year 12 students designed to provide insight into studying Theatre and Performance at university.
The 'Skill Up in Theatre and Performance' programme designed for Year 12 students interested in finding out more about life as a Theatre and Performance undergraduate, as well as the career opportunities that our course can offer.
Our Theatre and Performance course is a dynamic combination of practical and theoretical study, and through our two-day campus experience on 4th and 5th April, participants will experience academic sessions including lectures and workshops reflective of this diverse curriculum. Sessions are developed and delivered by academics from the School of Performance and Cultural Industries and are all hosted in the University's contemporary performance space, stage@leeds.
The programme is designed to support participants in developing the vital theatre and performance skills, critical thinking and analytical skills that will support their transition to university. They will be joined and supported by our welcoming Student Ambassadors, who will answer questions all about university life and studying in Leeds, and gain a comprehensive understanding of what life is really like for a theatre and performance student.
They will also have the chance to get to know each other during our social activity at Leeds Playhouse, the largest producing theatre in the north and have the opportunity to book discounted tickets to see Lord of the Flies on the evening of the 4th April.
Skill Up in Theatre and Performance programme and dates for your calendar
On-campus Taster Day – 4th April, 09:15-15:30 (optional social activity at Leeds Playhouse 15:30-18:30)
On-campus Taster Day – 5th April, 09:30-15:45
Online session (Alumni panel) – 18th April, 16:30-17:30
Online session (Personal statement workshop) – 25th April 16:30-17:30
We invite applications from all Year 12 students, but priority will be given to those who live in an area of low progression to higher education (ranked by POLAR 4 and IMD quintile), those who meet 1 or 2 of our Access to Leeds criteria and/or those studying a BTEC at Level 3. Students should be able to travel to and from the university on the 4th and 5th April for the campus event. Please note that this event is not a residential and accommodation will not be provided.
This programme is designed by the Arts and Humanities and Outreach team, and the School of Performance and Cultural Industries at the University of Leeds. For further details and contact please visit the Arts and Humanties Outreach team website.