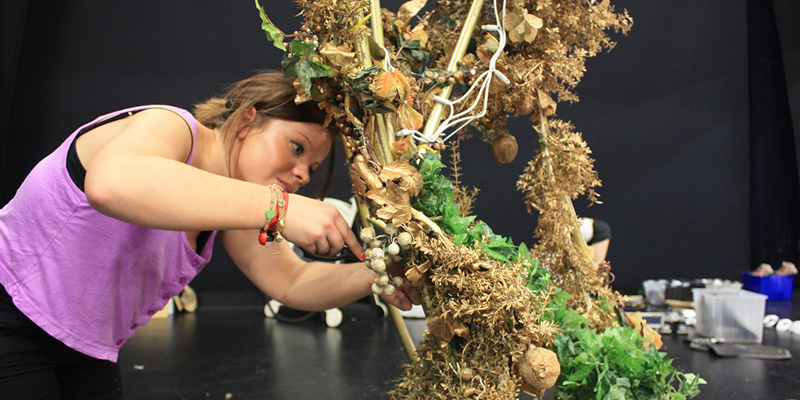 There are a number of scholarship and funding opportunities that you may be eligible to apply for. Our Postgraduate research opportunities directory lists all our opportunties and information on how to apply.
Applicants must have recieved an offer of a place before applying for these scholarships. If you are thinking about applying for any of these awards we recommend you contact our Postgraduate Research Tutor, Dr Maria Kapsali (m.kapsali@leeds.ac.uk) for guidance.
School of Performance and Cultural Industries Research Scholarship
3 awards available.
Research postgraduate courses only.
Three awards worth UK/EU tuition fees, including maintenance grant.
Open to UK, EU and international students.
Application deadline 1 June 2019.
How do I apply for a School Scholarship?
Please send a 500-600 word personal statement to Linda Watson (pciphd@leeds.ac.uk). In this statement please ensure that you address:
how your previous experience, qualifications and interests would equip you to undertake the proposed research;
how you would formulate the project within the scope of the specialist supervision available in the School and its relevant areas of research expertise.
We will assess your potential through your application form, accompanying statement, CV and interview.
Leeds Doctoral Scholarship
The Leeds Doctoral Scholarship offers a number of funded scholarships across many discipline and is awarded in recognition of excellence. The applications for this scholarship have now closed for 2019.
AHC Doctoral Scholarships
The Faculty of Arts, Humanities and Cultures has a number of scholarships available to support postgraduate researchers starting a PhD. As well as proposals in our own research areas, applications are welcome for funding of interdisciplinary research proposals across multiple schools within the faculty.
The applications for this scholarship have now closed for 2019.
The White Rose College of the Arts & Humanities Competition Studentships
The White Rose College of the Arts & Humanities (WRoCAH) is a Doctoral Training Partnership of the Universities of Leeds, Sheffield and York. It is responsible for the distribution of AHRC-funded doctoral studentships for these universities and for the coordination of a doctoral training programme.
Alumni bursary
If you are a former student of the University of Leeds you may be eligible for a 10% alumni tuition fee bursary.
Other scholarship opportunities:
You can find out more about all our scholarships and bursaries through our dedicated scholarships database.