Postgraduate Researcher Stuart Bowes shares his initial impressions of his hands-on training as a museum registrar at the Royal Armouries.
Friday 6 May 2022 marked a major milestone in my PhD. On that day, I finally set foot in the Royal Armouries to assume the position of trainee registrar.
This might not seem to be an event of great consequence, but it represented a decisive break with eighteen months of disruption and delay. It was originally envisaged that I would begin training as a registrar from the PhD's outset, in order to establish a solid practical basis for the rest of the project. To say that things didn't go to plan would be an understatement.
For the first year or so, the coronavirus pandemic and the accompanying restrictions made any induction impossible. Then, the Armouries weathered a serious cyberattack that hindered their communications and occupied their attentions for a few months. Finally, there was a further setback in securing IT equipment with the appropriate safeguards.
Hence my satisfaction at being able to take on this training at long last. I was starting to wonder if the practical dimension of this collaborative PhD would ever transpire.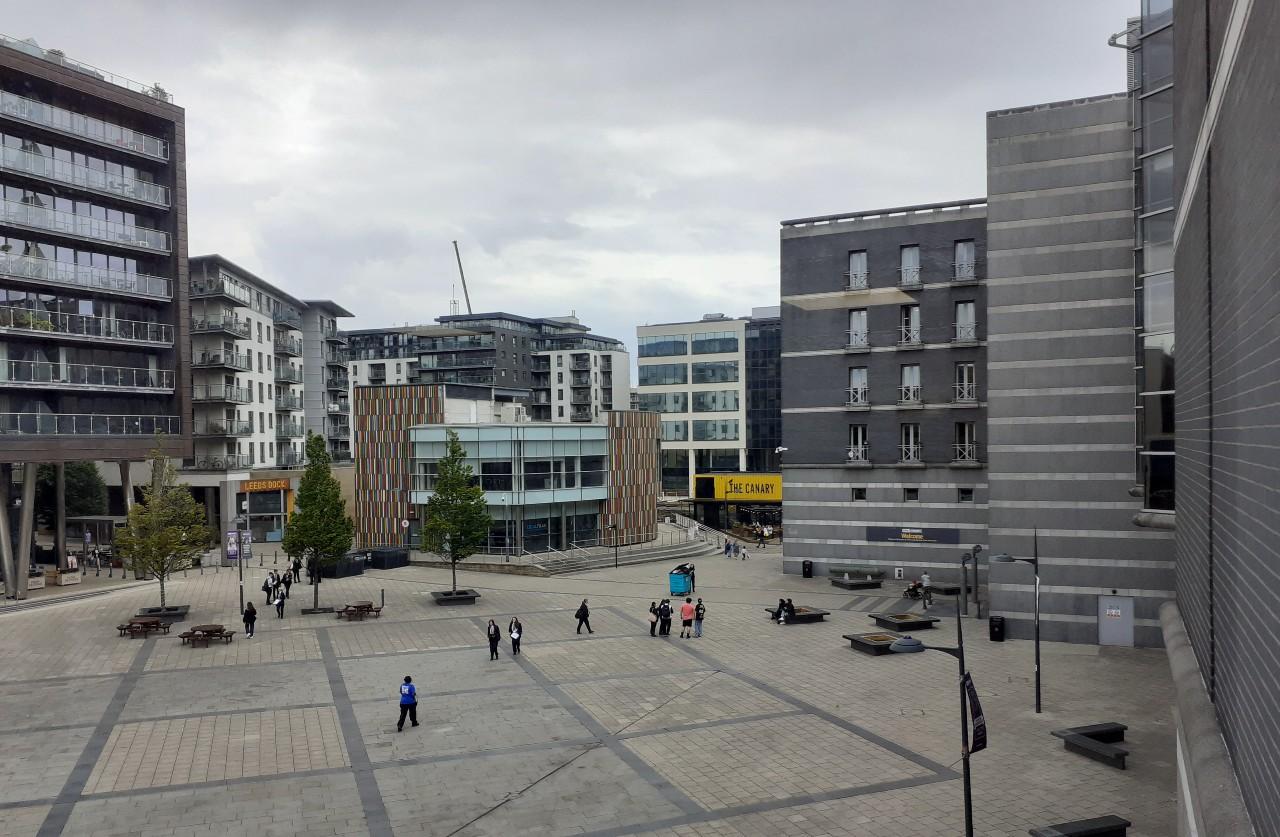 View from the Registrar Office: Royal Armouries Museum, July 2022. Photo by Stuart Bowes.
At the time of writing, I have now been working as a trainee registrar for nearly three months, which feels like a fitting moment to record my first impressions. Even this relatively short time at the Royal Armouries has proved enlightening in a number of respects.
Firstly, I better comprehend the sheer range of responsibilities assigned to museum registrars. My first few months have certainly reflected this variety: arranging inter-institutional loans, updating digital records, auditing collections in storage, inspecting the public displays, packing objects for transport and, above all, firing off emails in all directions. Yet even this sizable list only represents a small proportion of the tasks undertaken by a full-time registrar.
Next, there is the inherently collaborative nature of the role. From my research I understood the centrality of registrars to museum networks in principle, but I have now come to appreciate the full extent of this reality.
My work at the Royal Armouries has seen me interact with colleagues across the institution – not only curators and conservators, but also those responsible for education, design and events. This constant dialogue is not just confined within the museum's walls. The registrar's oversight of the loans process has also led me to communicate with staff belonging to institutions of all shapes and sizes.
Perhaps most importantly, this experience has highlighted the breadth of skills needed to discharge the registrar's role effectively. There is not the space to list all of them here, so the inclusion of a select few will have to suffice.
Registrars should be methodical in all their dealings, to ensure no detail or issue is overlooked. It is important that they are clear and articulate communicators, given the abundance of relationships they are expected to cultivate on their institution's behalf. Above all, registrars need to be adaptable in order to confront and resolve the unforeseen challenges inevitably encountered in the routine operation of museums.
These criteria alone suggest it is hardly an occupation for the faint-hearted.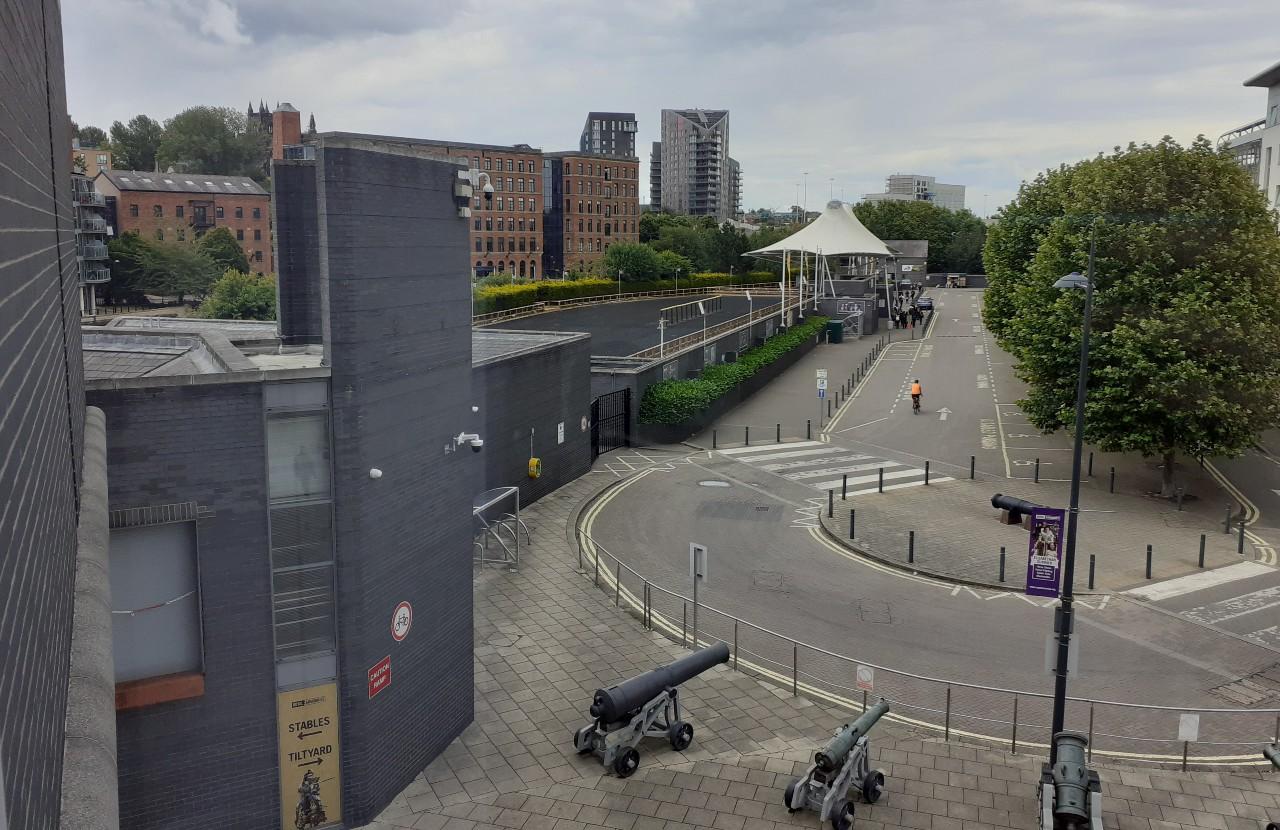 View from the Registrar Office: Tiltyard, Royal Armouries, July 2022. Photo by Stuart Bowes.
As a whole, this new institutional awareness has undoubtedly deepened my engagement with the research project. It has been all very well to examine registrar practice from an external standpoint until now, but nothing can really compare with first-hand experience of the Royal Armouries' internal workings.
This new-found practical knowledge is also feeding into my writing. It has profoundly informed my approach to the frameworks governing the use of Armouries' weapons collections and how its registrar department responds to these obligations. By rooting my academic impressions of this work in reality, this traineeship has augmented the invaluable observations generated by my interview conversations with the Royal Armouries' staff.
As the PhD continues, it is my intention to continue working alongside the Royal Armouries' registrar team for as long as possible. I hope to gain further insight into the intricacies of collections management from those responsible for its routine implementation. The fact that this training should hopefully increase my future employability prospects doesn't hurt either.
Ultimately, this ongoing partnership in its multiple manifestations will be key to realising the full potential of my Collaborative Doctoral Award. After all, there can be few better ways to gain a nuanced understanding of the Royal Armouries' management of its restricted collections than by engaging with its theoretical and practical dimensions simultaneously.
More information
Find out more about Stuart Bowes' research.
You can follow Stuart's journey as a Postgraduate Researcher on the Registrars: Training for the Future blog.
Feature image
Royal Armouries Asian gallery. Photo by Andy Lord.