Fine Art student Skye Davies shortlisted for the Derwent Art Prize 2022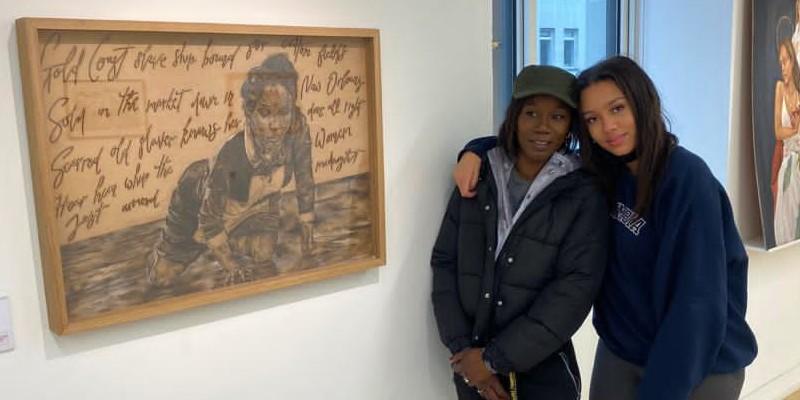 Work by BA Fine Art and Contemporary Cultural Theory student Skye Davies has been shortlisted for this year's prestigious Derwent Art Prize and exhibition.
Created in 2012 by Derwent, the Derwent Art Prize rewards excellence by showcasing the very best artworks made in pencil by artists from around the world.
The 2022 call for entries received over 6,100 artworks from 2,325 artists from 67 countries.
One of 72 shortlisted artworks created by 56 artists, Skye's artwork Brown Sugar is on display in the Derwent Art Prize 2022 exhibition at gallery@oxo in London until 6 March.
The exhibition can also be viewed online.
Sky Davies, Brown Sugar, 2020. Image courtesy the artist.
Skye Davies grew up in South London and is in the first year of her undergraduate Fine Art course at the University of Leeds. Skye said:
"I am excited that my piece Brown Sugar has been selected as one of the 72 artworks for this year's Derwent Art Prize exhibition.
"As a practising UK based artist, my work typically focuses on my heritage and culture, learning about and portraying societal dynamics, history, nostalgia and family.
"I experiment and utilise a multitude of materials and subject matter, dabbling in mixed media, graphic design, wall art and more alongside my typical mediums of paint and tonal pencils.
"I made Brown Sugar as an experiment; it was not planned at all. This was the first time I have worked with wood and laser cutters (which I used for the cut out words). I really enjoyed playing with how to make the light placement realistic but striking in this piece, using a white pencil.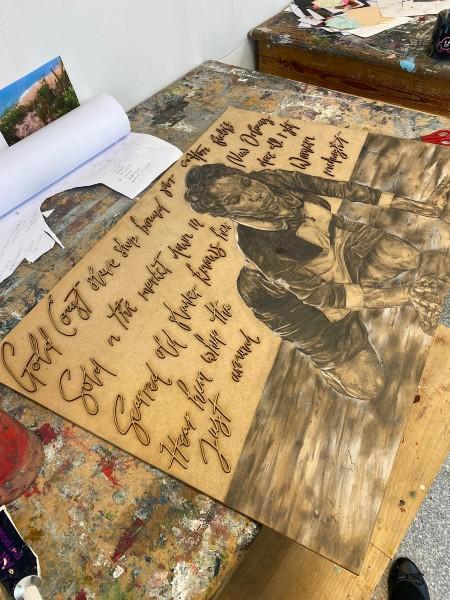 Working on Brown Sugar in the studio. Image courtesy of Skye Davies.
"This was a part of a project I was making on Windrush and the scandal that followed, My great grandmother came over from St Lucia to England as part of the Windrush generation: she is the matriarch of my family and a plays a big role in all of our lives.
"The piece captures elements of her own story. She worked multiple jobs as a cleaner to support her children and grandchildren, like many of the other people who came over during that time period.
"During the creation of the piece, I came across the song 'Brown Sugar' by the Rolling Stones, which includes quite controversial imagery regarding slavery. With it being such a popular song and played consistently, I could imagine the Black British community may have felt like their experiences were somewhat echoed: still working hard for little to survive in a hostile environment, alienated, and treated like outsiders.
"Making the whole piece really opened my eyes and allowed me to immerse myself in the older generation's experience and empathise with the harsh reality they faced at the time.
Skye Davies, Brown Sugar, 2020 (detail). Image courtesy the artist.
"The piece was a finalist in the Sovereign Art Foundation Competition in London and was on display in Phillips Auction House in Mayfair in 2020. It was also a part of the Surrey Quays Shopping Centre's Black History Month display in the same year.
"In December 2021, Brown Sugar was selected for the Tate Collective Open Call digital exhibition derived from the exhibition 'Life Between Islands: Caribbean-British Art 50s – Now', showcased on the Manton Staircase."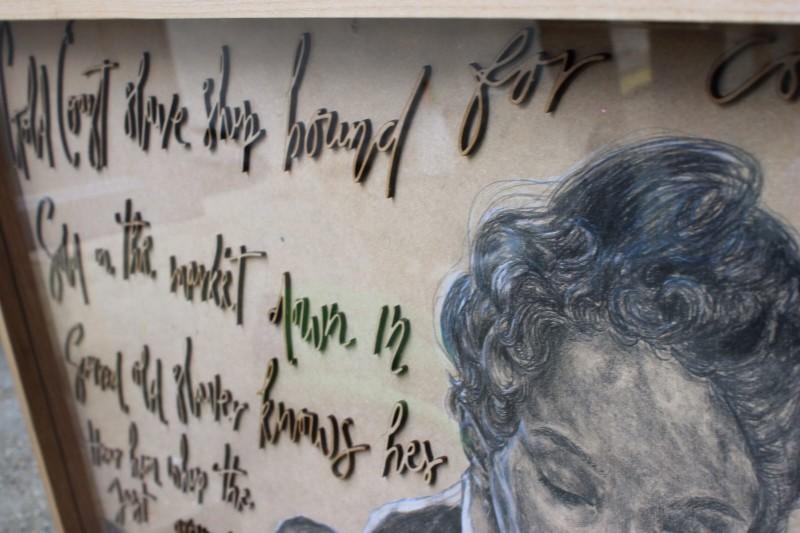 Skye Davies, Brown Sugar, 2020 (detail). Image courtesy the artist.
All of the works were considered by a prestigious panel of selectors: host of The Great Women Artists podcast, Katy Hessel; Director of Modern Art, Oxford, Paul Hobson; and artist Charmaine Watkiss.
Prizes totalling over £12,500 were awarded in a private awards ceremony on the opening night of the exhibition on 24 February.
A People's Choice Prize of £500 will awarded later in the year to the artist voted as favourite by the public. You can vote for Skye's Brown Sugar and any of your other favourite pieces (voting closes at 6pm on 6 March).
Find out more about the Derwent Art Prize exhibition and Skye Davies' shortlisted artwork.
Feature image
Skye Davies with her mum, standing next to Brown Sugar at Phillips Auction House in 2020. Image courtesy the artist.