Design student Edward Roberts wins Queen's Platinum Jubilee emblem competition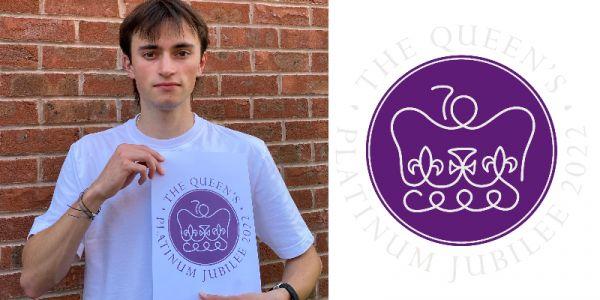 Working on the emblem design in his spare time, Edward submitted his winning entry to the competition run by Buckingham Palace and the V&A Museum in London.
Edward, who has just completed his first year of his BA Graphic and Communication Design course, said of winning the competition, "Art and design have always been passions of mine. From completing an A-level in art to then going on to university to study graphic design, I try to use both disciplines in my work as much as possible.
"I wasn't expecting to win the competition. When I was told I had made it into the top 100 entries, I felt that was an achievement on its own. It feels such an honour to have won it."
His design will feature on all the official Jubilee merchandise, including websites, posters, tea towels, mugs and more.
Professor Maria Lonsdale, Head of the School of Design, said: "We are thrilled that Edward's beautiful, carefully designed and well thought through emblem has been chosen to mark the Queen's Platinum Jubilee. His win is richly deserved and we are all very proud of him."
In addition to winning the competition, Edward will be invited to attend the Platinum Jubilee celebrations and a concert Buckingham Palace to mark the event.
Further information
For media enquiries contact University of Leeds press officer Lauren Ballinger.
Picture: Edward Roberts
Emblem design: Buckingham Palace