Dame Ingrid Roscoe — BA History of Fine and Decorative Arts 1985; PhD 1990; Hon LLD 2010
It is with great sadness that we hear of the recent passing of Dame Ingrid Roscoe, art historian and former Lord Lieutenant of West Yorkshire.
Ingrid completed her BA in History of Fine and Decorative Arts at the University of Leeds in 1985, going on to write her PhD thesis on the 18th century sculptor Peter Scheemakers in 1990. Her thesis was later published by the Walpole Society.
Following her studies at Leeds, Ingrid spent some time teaching art history at the university, specialising in British Sculpture of the 17th and 18th centuries. She also took on the role of editor and author for the publication of A Biographicial Dictionary of Sculptors in Britain, 1660-1851. During her lifetime, she continued to publish on British scultpture and was elected as a Fellow of the Society of Antiquaries in 1993.
Ingrid became Lord Lieutenant of West Yorkshire in 2004, and was the first female Lord-Lieutenant in the north of England. She served as West Yorkshire's Deputy Lieutenant from 1994 to 1999 and Vice Lord-Lieutenant from 1999 to 2004.
Her many involvements in the county included patronage of the Prince's Trust for West Yorkshire and trusteeship of the Yorkshire Sculpture Park and the Hepworth Wakefield Trust. She was High Steward of Selby Abbey from 2000 to 2008, where she led a major fundraising campaign as chairman of the trustees. She was a trustee of York Minster and for many years was a trustee at Martin House Children's Hospice, Wetherby.
Ingrid was an Honorary Colonel of Leeds University Officer Training Corps and a Commander of the Order of St John. She was awarded with an honorary doctorate from Huddersfield University and another (in 2008) from Leeds Metropolitan University.
In 2010, she received an Honorary Doctorate of Laws from the University of Leeds and was appointed Dame Commander of the Royal Victorian Order (DCVO) in the 2017 Birthday Honours.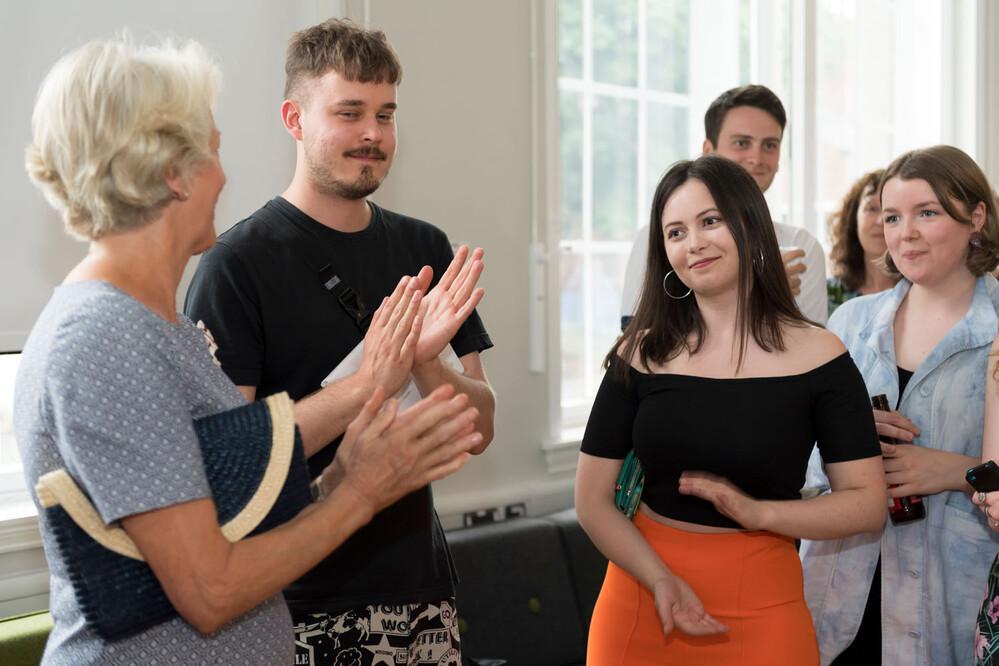 Dr Joanne Crawford, Head of the School of Fine Art, History of Art and Cultural Studies, said:
"Ingrid was a great friend and advocate of the School and art history, and was always enthusiastic about coming along to our events.
"She was one of my tutors in the 1990s and mentored me throughout my early career. She was always generous and kind, and I will always remember her with great affection.
"We were very honoured when Ingrid agreed to open our BA Fine Art Degree Show in 2017. I will always remember how engaging she was at that event and how comfortable the students felt around her. One of her strengths was her genuine interest in people as well as her understanding of the importance of art and art history in their lives.
"Ingrid will be missed by all that were privileged to spend time with her in the School of Fine Art, History of Art and Cultural Studies."
Images
Dame Ingrid Roscoe with graduating students and staff at the BA Fine Art Degree Show in 2017.