Postgraduate Researcher Rebecca Starr wins one of this year's Faculty Partnership Awards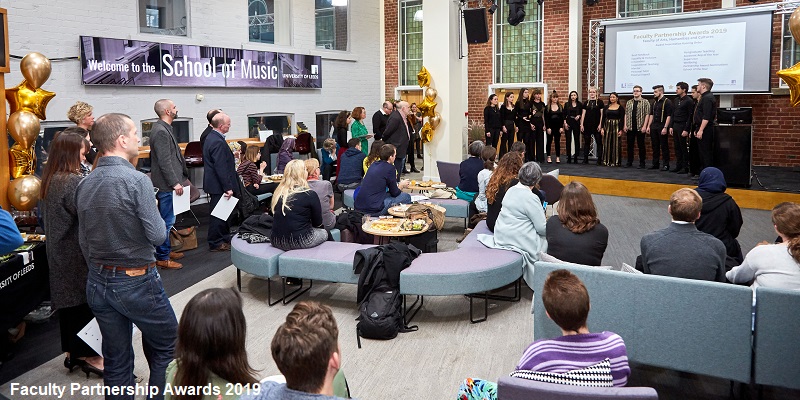 The Faculty of Arts Humanities and Cultures Partnership Awards is an annual event to give recognition and thanks to staff and students in the Faculty.
Nominations were invited from students and staff, to recognise outstanding impact across several categories. The event forms part of the larger Leeds Partnership Awards, organised by Leeds University Union.
Rebecca Starr, from the School of Fine Art, History of Art and Cultural Studies, was announced as the winner of the 'Postgraduate Researchers who Teach or Demonstrate' category. This award is for a PhD student who, while undertaking their own study, has also actively and exceptionally contributed to other students' education as a module assistant, seminar leader or demonstrator.
Rebecca researches participatory and socially-engaged art practices. Her thesis focuses on the context in which 'relational aesthetics' emerged in France in the 1990s and its relationship to contemporary social movements.
Alongside her studies, Rebecca also works as an Educational Outreach Fellow, leading art workshops in schools, for the National Art & Design Saturday Club and as part of the University of Leeds' Reach for Excellence programme.
Rebecca said:
"I'm really grateful to the students for nominating me for this award. Over the past three years, it's been a great experience to be able to work within the School and develop my own teaching practice.
"This experience, of course, has been complemented by the students' enthusiasm, inquisitiveness and willingness to engage with the subjects being studied — which has made teaching them all the more interesting and rewarding."
Rebecca's Partnership Award nomination included the following feedback from students:
"Rebecca always goes above and beyond to make sure we understand and have the capacity to make our own interpretations of the concepts and texts we are discussing. She is understanding of students' mental health and wellbeing."
"Rebecca's hard work means she is widely respected amongst students and considered one of the best members of staff in the school. Whilst working this hard, Rebecca is also liked and respected."
Professor Gail Day, Rebecca's PhD supervisor, said:
"Throughout her doctoral studies, Rebecca has been dedicated to her professional development, taking up a number of opportunities including contributing to the School's undergraduate teaching.
"She has enrolled on the University's Professional Recognition in Student Education (PRiSE) scheme and gained recognition as Associate Fellowship of HEA (Advance-HE).
"Supported by her scholarship from WRoCAH (White Rose College of the Arts and Humanities), Rebecca developed a Knowledge Exchange Project with disadvantaged young people in Sheffield.
"We are thrilled that these commitments have been acknowledged by the Partnership Award."
Other students and staff in the School of Fine Art, History of Art and Cultural Studies also received a number of commendations and nominations.
The School's Student Leader Team (represented by student Nathalie Lloyd-Cope) were commended for 'innovation'.
Ibrahim Latif Ince and Alice Acland were nominated for 'Student Academic Rep of the Year'.
Professor Abigail Harrison Moore received a nomination for the 'equality and inclusion category'.
Leeds University Union (LUU) have received over 2,700 nominations for this year's Partnership Awards, each of which celebrates the work done at the University of Leeds.
This year's Partnership Awards ceremony will take place online on Wednesday 27 May from 2pm on the Leeds University Union Twitter channel.