Final year BA Fine Art students showcase their work on social media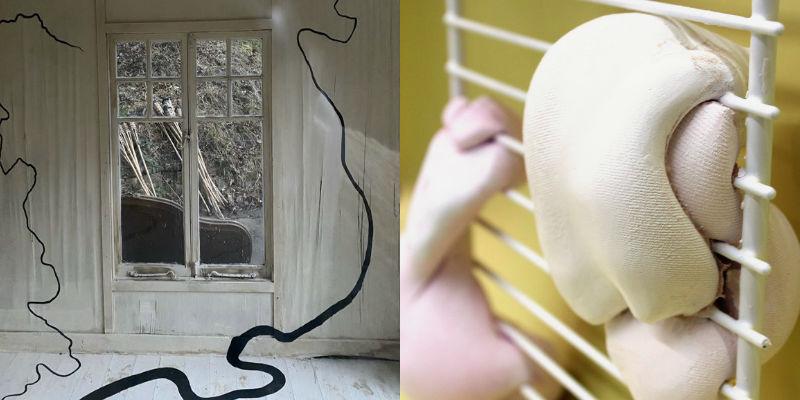 With events cancelled or postponed for the foreseeable future, our final year BA Fine Art students have taken to the internet to showcase their work.
Third year BA Fine Art student Erin Shields reflects on the lead up to this year's upcoming Degree Show — Simmer — in the context of the Covid-19 pandemic:
"We are existing in a supressed state, a constant fear of going over the edge.
Overwhelmed by the existential and the mundane.
A never-ending condition which must be negotiated.
Release is only temporary.
We return to the calm.
It allows us to reach for air and become submerged again and again.
Beyond, within, against.
It builds.
The pressure of heat.
The whisper of thought.
The intention.
A meaning. An interpretation.
The feeling. Belief. Balance. Conclusion.
The world resides on a hinge.
We must feel, play, push, face, build, wear, stamp, destroy it ourselves.
Momentum never stops.
There is no answer, movement or solution.
It is agitated.
Let it rise to the surface. Show itself to the world in a state of disposition.
Let it rest, burn, destroy, simmer.
"This is the blurb that was written for our BA Fine Art Degree Show Simmer which we were due to share with you in the coming weeks. It all seems rather fitting now.
"The likelihood of our degree show taking place in a physical space now hangs in the balance. As you can imagine, we have all been working up to this culminating point over the three to four years of our degrees so rather than cancelling our show, we have had discussions with our university, faculty and staff to decide how we are going to move forward with Simmer.
"We have been working collectively as a group to come up with innovative and creative ways to present our work, and we are excited to share all our ideas with you in the coming weeks as they begin to take shape.
"In the meantime, we are using our social media channels to help lift the spirits of all those isolating and social distancing by sharing images of work by our talented artistic cohort and our new studio spaces. We will share stories of how we are all working to stay positive and creative through these unusual times.
"Follow us on @simmer.leeds on Instagram, Twitter and Facebook and YouTube or keep an eye on our School website for updates and articles about our work.
"We are also working on a dedicated Simmer website and we will launch it as soon as it is ready.
"In the meantime, please look after yourselves and we hope you will enjoy engaging with Simmer in its new forms over the coming weeks."
Find out more about this year's BA Fine Art Degree Show and other student-led initiatives in the lead up to Simmer.
Images
From left: work by BA Fine Art students Henry McAlpine and Sarah Larby